Lentil and Pumpkin Curry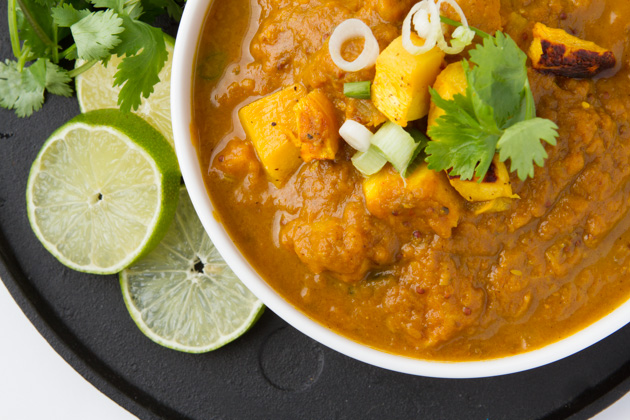 This flavoursome, hearty curry will warm you up through the winter months!
Ingredients
1 tablespoon coconut oil
2 tins of coconut milk
3 medium onions
3 garlic cloves
120 grammes of ginger
1 kg of pumpkin flesh
700 ml vegetable stock
300 grammes red lentils
400 grammes of greens (kale, spring greens or spinach)
Juice of a lime
100 grammes of coriander
Sea salt and black pepper
For the spice mix: (you can also buy the spices already ground)
4 cardamom pods (seeds removed)
1 teaspoon mustard seeds
2 tablespoons cumin seeds
2 teaspoons ground turmeric
2 tablespoons fennel seeds
2 tablespoons coriander seeds
1 teaspoon cinnamon
½ teaspoon chilli flakes
¼ teaspoon ground cloves
Method
1. Chop the garlic finely and grate the ginger
2. Peel and chop the squash into bite size pieces
3. First, make the spice mix. Grind the spices in a pestle and mortar.
4. Add the spices to a large pan and gently toast for a minute or so until fragrant
5. Chop the onions finely
6. Add the coconut oil to the spice mix until melted
7. Add the onions, garlic and ginger and fry for a few minutes
8. Add the coconut milk, squash and vegetable stock
9. After 10 minutes add the lentils.
10. Stir and simmer for 20 minutes until the lentils are soft and the squash is tender
11. Add more stock if necessary
12. In the last few minutes, shred the leafy veg and add to the pot
13. Season with salt and pepper
14. Stir through chopped coriander and lime and serve
---
---