Mac & Cheese Doughnuts with Cashew Garlic Sauce and Crispy Coconut Bacon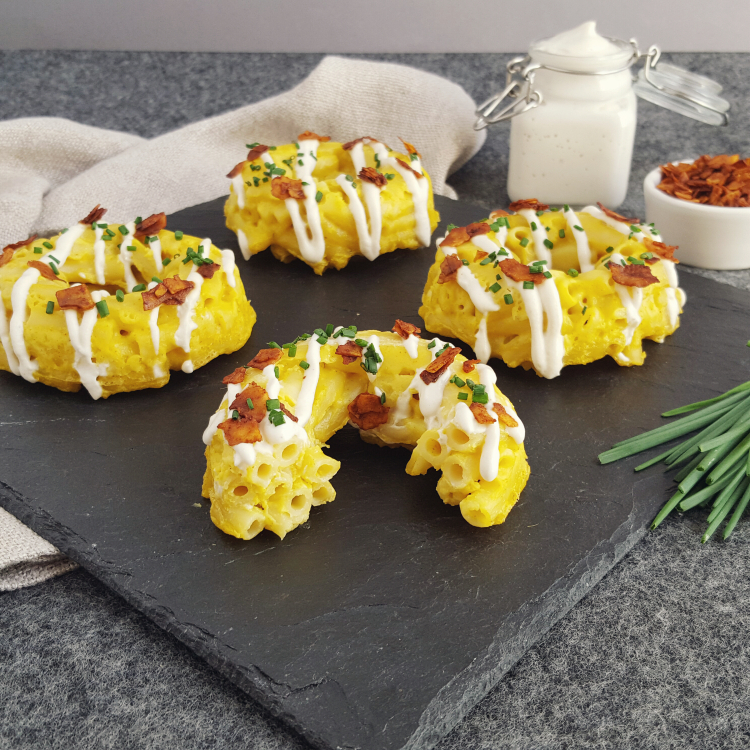 Naughty but oh so nice! These amazing creations come from our teacher and all round cheese mistress Ellie over at Kinda Co. Thankyou Ellie!
Ingredients
Prep time: 30 mins Baking time: 15-20 mins
Makes: 8 large doughnuts
The Mac Donuts
200grammes dried macaroni
1.5 tablespoons vegan butter
2.5 tbsp plain flour or can use something fancy like coconut or quinoa
250mililitres non-dairy milk
1/2 teaspoon tapioca starch (optional)
1/2 teaspoon salt
2 tablespoons nutritional yeast
1 teaspoon garlic powder
1 teaspoon onion powder
1/2 teaspoon turmeric (for colour)
Chives for garnish
Garlic sauce
100grammes cashews – soaked until soft
1 clove of garlic
1/4-1/2 teaspoon salt
100mililitres water
Coconut Bacon
30grammes raw coconut chips
1 tablespoon tamari or soy sauce
1/4 teaspoon liquid smoke (optional, leave out for a more wholefood approach)
1 tablespoon maple syrup
1/2 teaspoon paprika
Method
Coconut Bacon
1: Pre-heat the oven to 180°C. Place the coconut chips along with all the other bacon ingredients into a bowl and mix until all of the liquid has been absorbed by the coconut.
2: Line a baking tray (or use a non-stick one) and spread the coconut mixture onto the tray in a single layer.
3: Bake in the oven for 15-20 minutes but every 5 minutes take it out of the oven and flip the coconut pieces to make sure that they cook evenly.
4: It should be dark golden brown and very crisp when done. Set aside to cool.
Garlic Sauce
1: Place soaked cashews, garlic, salt and water into a blender and process until very smooth. You may need to stop to scrape down the edges a few times. Keep refrigerated until needed.
Mac & Cheese Doughnuts
1: Preheat oven to 180°C. Cook the macaroni according to package instructions until al dente. Drain and put to one side.
2: In a saucepan melt the vegan butter, then add the flour and mix to form a thick paste. Cook for a minute and then start adding the non-dairy milk, 50ml at a time. Mixing until smooth after each addition.
3: When you have added all the milk add in the tapioca mix to combine then add all the remaining ingredients to create a thick sauce.
4: Add the pasta to the sauce and mix until combined.
5: Add spoonfuls of mac and cheese to a doughnut pan, taking care to make sure there are no gaps in the moulds. Depending on the size of your pan you might need to bake them in two batches.
6: Place in the oven and bake for 15-20 minutes until the tops are crisping up.
7: Loosen the edges of the mac doughnuts and carefully flip out of the tin.
8: Drizzle with garlic sauce, scatter over the bacon bits and add some chopped chives and enjoy immediately!
This super fun recipe was created by Ellie over at Kind State Of Mind vegan food blog and Kinda Co.artisan vegan cheese company. Check her out - everything she makes is delicious!