Maple Glazed Carrots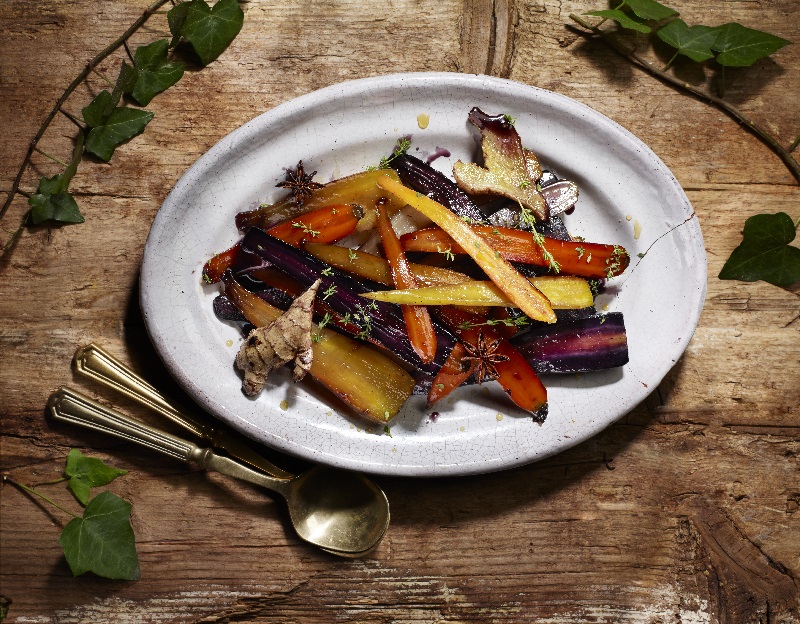 This delicious festive take on carrots was created by chef Anton Petrov for our 2017 festive feasts cookery book.
Ingredients
500g heritage carrots
600ml stock (or enough to just cover the carrots)
2 tablespoons maple syrup
1 star anise
Juice and zest of an orange
Salt and white pepper to taste
A pinch grated nutmeg
Method
1: Peel the carrots and cut in half.
2: Place the carrots in a saucepan with the stock and a squeeze of orange juice, the piece of star anise and a generous pinch of salt.
3: Bring to the boil and simmer for 5 minutes and then drain. Reserve the liquid as you may want some later.
4: Reheat the pan and add a splash of olive oil. Add the carrots to the oil along with the star anise and stir well.
5: Add the maple syrup and a squeeze of orange and gently cook for 2 minutes with a lid on.
6: Take the lid off and add nutmeg, salt and pepper and let the glaze thicken around the carrots.
7: Turn the heat off and put aside.
Photography by Chelsea Bloxsome for Made In Hackney