Mexican Tortillas With Tomato Salsa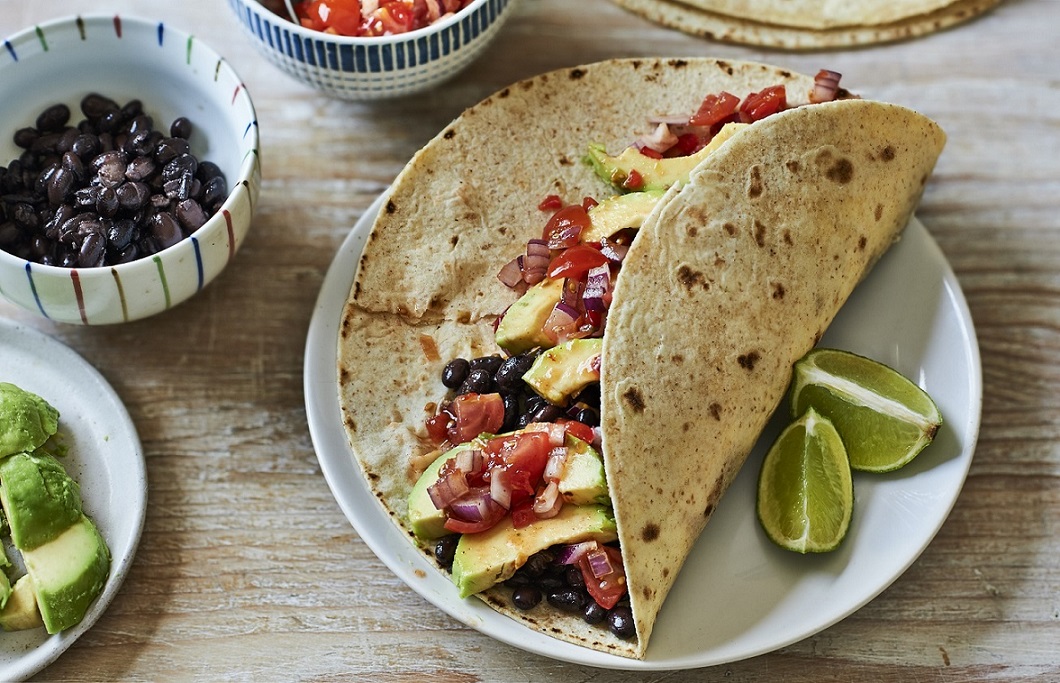 Get the party started with these Mexican fiesta favourites!
Ingredients
For the Tortillas:
2 cups of wholewheat flour
3 tablespoons of olive oil
1/2 a teaspoon of salt
2/3 cup of warm water
For the Tomato Salsa:
500 grammes of organic cherry tomatoes
2 red onions
1 red chilli
3 cloves of garlic
1 lime
For the Blackbean and Avocado
1 avocado
1 tin of blackbeans
1 lime
1 tablespoon of olive oil
Method
Tortillas
1. Place the flour, olive oil and salt in a bowl and mix together.
2. Slowly add the warm water until a dough is formed.
3. Place the dough on a lightly floured surface and knead for 5 minutes.
4. Leave the dough in a bowl covered with a tea towel for half an hour.
5. Knead the dough again for 5 minutes.
6. Divide the dough into 8 pieces.
7. Using a rolling pin, roll each piece of dough into a thin circle.
8. Heat a heavy frying pan until it is hot.
9. Place each tortilla in the frying pan until it has brown spots (about 2 minutes each side).
Tomato Salsa
1. Chop all the ingredients (apart from the lime) into small chunks and place in a bowl.
2. Squeeze over the lime and mix together.
3. Refrigerate until ready to serve.
Avocado and Blackbean
1: Halve and then quarter the avocado.
2: Open tin of blackbeans and rinse.
3: Combine both in a bowl but without mixing.
4: Squeeze half a lime over both.
5: Drizzle in olive oil and gentle stir through.
Photography: Faith Mason for Made In Hackney, Food Styling: Ximena Ransom for Made In Hackney