Middle Eastern Inspired Quinoa Bowl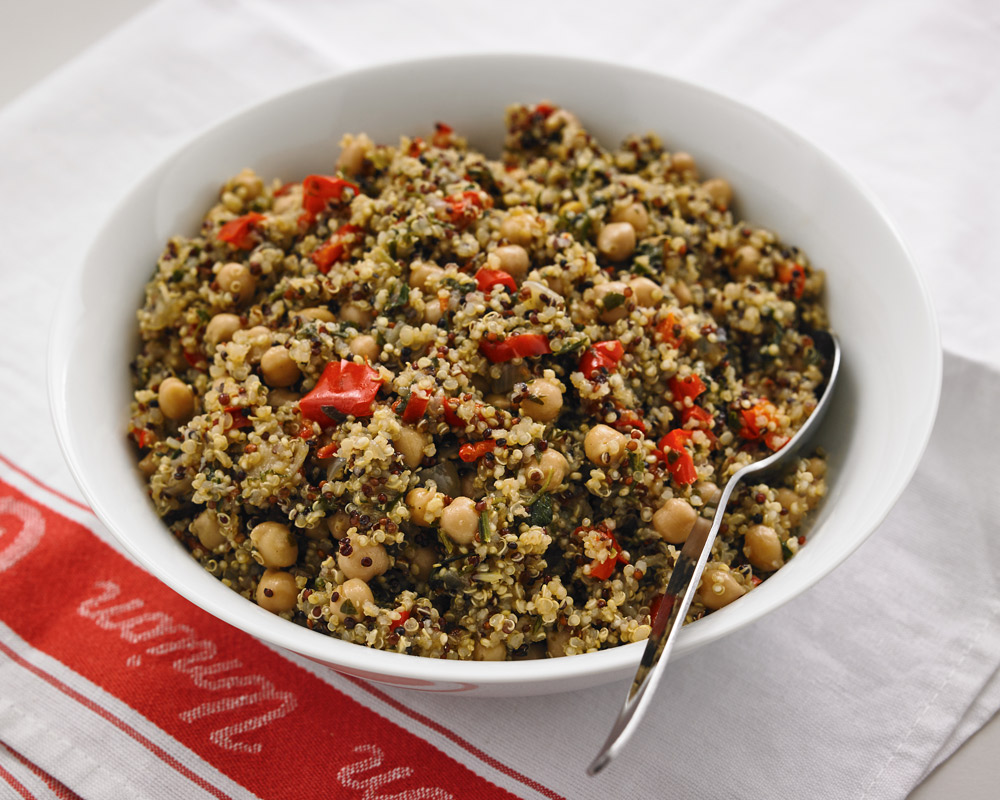 Grain like quinoa packs a protein punch and will keep your energy level stables. As it is actually a seed it contains the full range of amino acids making it an excellent source of plant based protein.
Ingredients
250g quinoa
200g carrots, cut into small dice
1x 400g tin chickpeas, drained
3 tablespoons olive oil
2 teaspoons sumac
½ teaspoon smoked paprika
1 teaspoon fennel seeds
1 teaspoon cumin powder
1 tablespoon dried thyme
50g raisins
1 tablespoon pomegranate molasses (optional)
A Pinch of sea salt
200g baby spinach leaves
Juice of a lemon
½ pomegranate seeded
Chopped fresh herbs such as parsley, coriander or mint
Method
1. Rinse the quinoa and put on to cook with double the volume of water. Once cooked transfer to a bowl and leave to cool while you prepare the rest of the dish.
2. Sautee the carrots and chick peas in the olive oil with the sumac, paprika, fennel, cumin and thyme and cook for 5 minutes until the carrots soften slightly.
3. Add the raisins and pomegranate molasses and season lightly with the sea salt.
4. Turn off the heat and add the baby spinach and keep stirring in the residual heat of the pan until the leaves are wilted, then pour over the lemon juice.
5. Transfer the chickpea mixture to the bowl with the quinoa and mix well.
6. Stir through most of the pomegranate seeds, reserving a few to garnish along with some chopped fresh herbs.
Recipe: Jayne Totty
Photo: Patrician Niven
---
---