Mini Cottage Pies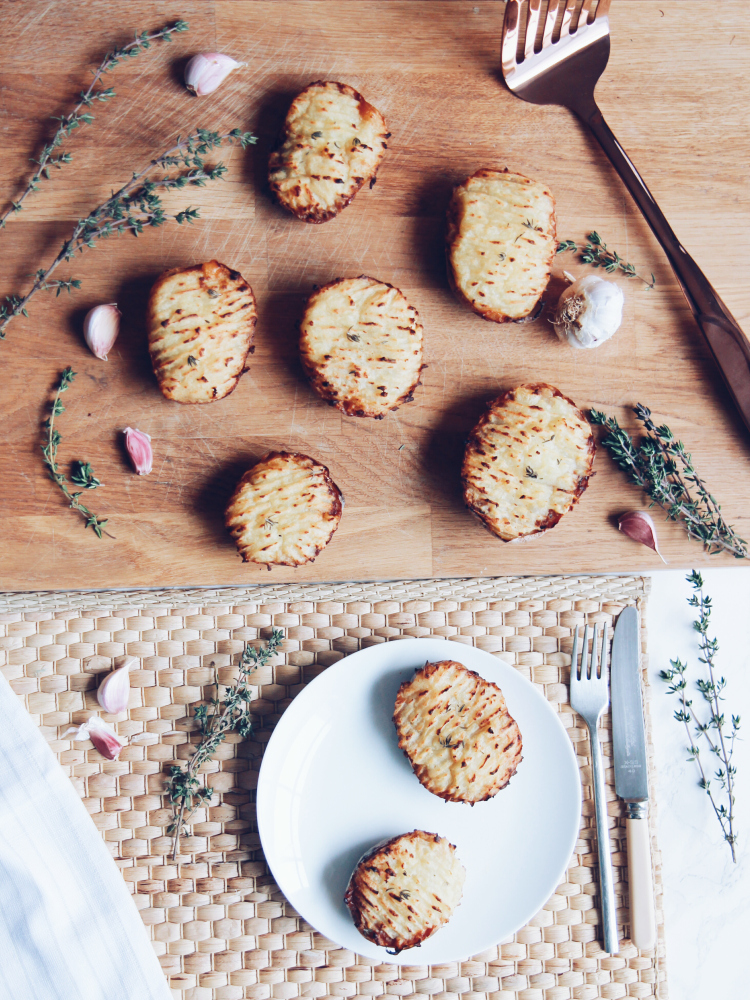 This super cute and tasty recipe and photograph comes from Made In Hackney supporter and amazing vegan blogger and supper club chef Eleanor Brown from Kind State Of Mind. Be sure to check out her amazing blog - and enjoy these pies. We sure did.
Ingredients
Serves 4
Approx. 1 kilogram medium sized potatoes – I used the bigger ones from a mixed 1.5 kg bag
2 tablespoon rapeseed oil
1 small onion (red or white)
2 cloves of garlic
1 teaspoon ground cumin
1/4 teaspoon chilli flakes
1 small carrot
2 stalks of celery
1 courgette
250gramme any mushrooms
Small bunch of fresh thyme (or use dried)
250 mililitres veg stock
3 tablespoon tomato puree
1 tablespoon soy sauce
Salt and pepper, to taste
2 tablespoon vegan butter (I used Vitalite)
1-2 tablespoon non-dairy milk if needed
Method
Preheat your oven to 200°C. Prick your potatoes and place on a baking tray. Bake in the oven for 45mins-1 hour, until cooked through, dark brown and slightly crispy on the outside. You need the skins to be properly baked so they're stable enough to scoop out the insides.
While they're baking you can make the cottage pie filling. I use a food processor to speed things up on the chopping front but no worries if you don't have one/ can't be bothered to get it out of the very back of the cupboard that it's hiding in (seriously – this is a genuine consideration for me some days) you can just finely chop all of the veg instead. Process your onion and garlic until it is finely diced. Add the oil to a large frying pan over a medium heat. Place the onion and garlic into the oil along with the cumin and chilli. Cook gently for a few minutes.
Next process the carrots and celery until finely diced and add to the saucepan and cook for 5 minutes, keeping everything moving.
Lastly process the courgette and mushrooms, again until finely chopped and add to the saucepan. Cook for a few minutes before adding the tomato puree, veg stock and soy sauce. Give it all a stir and turn the heat down to low. Strip the leaves off the thyme and add to the mix along with some salt and pepper.
Cook for 5-10 minutes until it is quite thick with only a little liquid left. Have a taste and adjust the seasoning, if needed. Put to one side.
When the potatoes are done remove them from the oven and leave to cool slightly. Turn down the oven to 180°C.
Slice the potatoes in half lengthways, across their widest point. Gently scoop out the cooked potato inside and place into a bowl, leaving a layer of potato around the baked skin. If you remove all of the potato then the skins can become a bit flimsy and might not hold their shape or the filling once refilled so you want to leave a little bit in them. Place the empty skins back onto the baking tray.
Add the vegan butter to the cooked potato insides, season with salt and pepper and mash with a fork until smooth, adding a tablespoon or two of non-dairy milk if needed.
Now you can make up the cottage pies, place a few spoons of filling into each potato skin and top with the mashed potato, using the back of a fork to draw lines over the top. Place into the oven and bake for 25 mins, until golden on top and heated through.
Notes from Eleanor Brown from amazing vegan blog Kind State Of Mind. Be sure to check it out!
You could pop some vegan cheese on top if you have any.
The cottage pies can be reheated easily and would freeze well (freeze the filled skins before they are baked and add an extra 15 mins onto the cooking time.)