Mixed Herb Pesto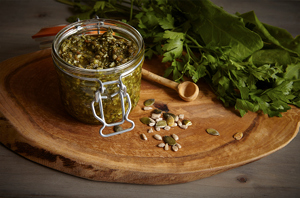 Pesto is so quick and easy to make, you can use a wide variety of herbs and any nuts or seeds you have around. For a 'activated' pesto you can soak the seeds overnight to deactivate the enzyme inhibitors in the seeds. We love using sorrel and pumpkin seeds but it's totally up to you!
Ingredients
100 grammes mixed herbs
50 grammes nuts or seeds
1 small garlic clove
1 teaspoon apple cider vinegar
Olive oil
Pinch sea salt.
Freshly ground black pepper
Method
1. For conventional pesto toast the nuts/seeds in a dry pan on a high heat for three minutes shaking frequently and leave to cool. If making a raw 'activated' pesto strain the pre-soaked seeds and turn onto a bread board to dry.
2. If you're feeling strong crush the garlic with some sea salt in a mortar and pestle. Alternatively add to a blender and blitz.
3. Add the nuts/seeds to the mortar and pound, or to a blender and blitz for 30 seconds.
4. Finely chop the herbs and either add to the mortar and pound, or add to the blender and blitz.
5. Gradually add the olive oil until a loose but textured paste.
6. Add pinch of sea salt and pepper to taste.
7. Spoon into a sterilised jar and keep in the fridge for two weeks, topping up with olive oil when necessary.
For a more savoury taste add a teaspoon of nutritional yeast flakes when you are pounding or belnding the herbs.
Photo Credit: Patricia Niven for Made In Hackney
---
---