Muhammara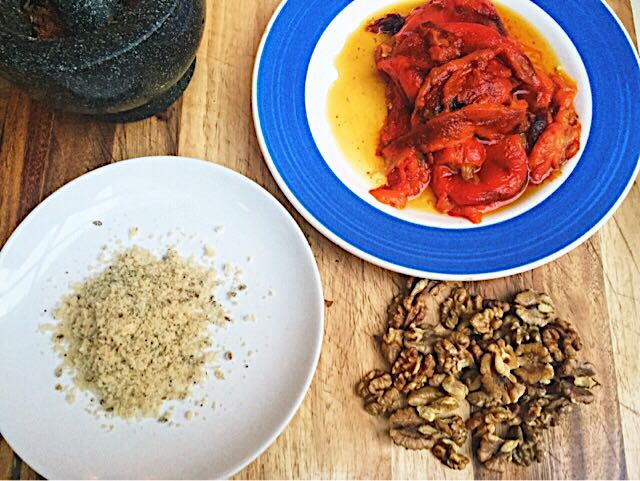 Deliciously nutty pepper dip. Thanks to Tamara Tahhan for this recipe, as taught in our 'Taste of Palestine' Masterclass
Ingredients
4 red peppers
3 crushed garlic cloves
1 handful fresh bread crumbs
1 teaspoon of cumin seeds toasted
1 teaspoon salt crystals
1/2 teaspoon smoked paprika
1 teaspoon Aleppo pepper
1 tablespoon pomegranate molasses
3 tablespoons extra virgin olive oil
1 tablespoon lemon juice
Handful of walnuts toasted and finely chopped
Method
1: Preheat the oven to 200 degrees.
2: Place peppers on a tray and roast until charred and blackened. When they are ready place in a bowl covered by a lid or in a sealed container and leave for ten minutes. The skins should then easily peel off. Discard the seeds and white and roughly chop.
3: This is definitely best worked in a pestle - blitzing this in a food processor means the dip will lack the right texture.
4: First add the garlic and salt to the pestle and crush it. Next add the cumin crushing it followed by the other spices. Add the peppers, breadcrumbs, lemon and molasses. Once you have it to a point where everything is well combined but with texture remaining stir in the walnuts and olive oil. Check the seasoning and serve with bread.
5: This will keep in the fridge in a sterilised jar for a week or so and the flavour improves from leaving it a day.
With thanks to Tamara Tahhan for recipe and photo
---
---