Mushroom soup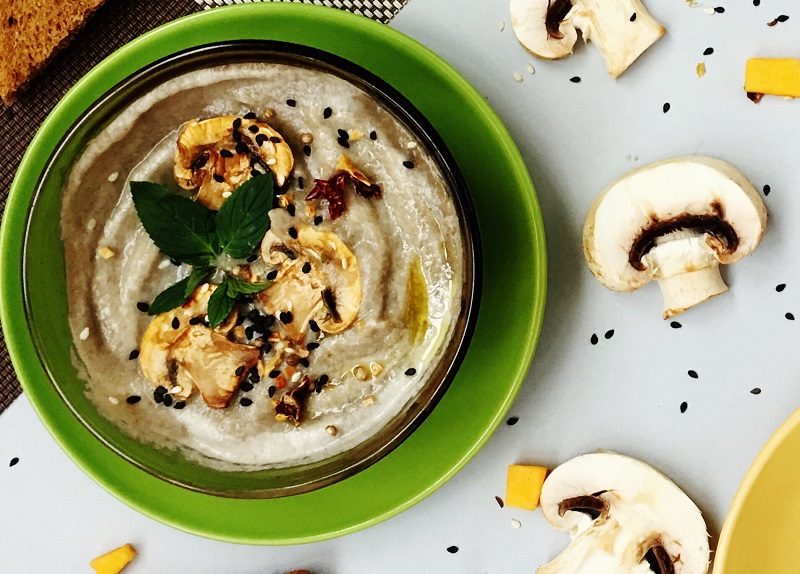 Mushrooms have powerful immune boosting properties (called beta glucans) so are ideal to stave off colds and flu in winter. A bowl of soup as a starter is also a good way to get one of your 7 cupfuls of plants a day for the fibre to feed the good bacteria in the gut and help overall health.
Ingredients
Serves 4
1 onion, peeled and chopped finely
2 garlic cloves, peeled and chopped finely
5 tablespoons extra virgin olive oil
250 grammes mushrooms of your choice (I like to use white buttons, chestnut, portabella, or large flat or a mixture of several varieties), washed and chopped.
500 mililitres boiled water
1 teaspoon yeast extract
1 teaspoon dried or fresh thyme
250 mililitres almond milk
A small pinch of sea salt and a grinding of fresh ground pepper to taste
Method
1. Gently sauté on a medium heat the onion and garlic in the extra virgin olive oil for about five minutes till the onions are soft and translucent.
2. Add the mushrooms and stir. Let the mushrooms soften in the heat for a about five minutes.
3. Add the boiled water and yeast extract and the thyme.
4. Bring the mixture to the boil.
5. Reduce the heat and simmer for about 20 minutes with a lid on.
6. Empty the mixture into a blender and pulse till smooth.
7. Add the almond milk and seasonings and serve.
With grateful thanks to Jeannette Hyde, nutritionist and best-selling author of The Gut Makeover, for this recipe. You can also follow Jeannette Hyde Nutrition on Twitter, Facebook and Instagram (jeannettehydenutrition).
Photo credit: Photo by Yakynina Anastasia on Unsplash