Okra Stew with fufu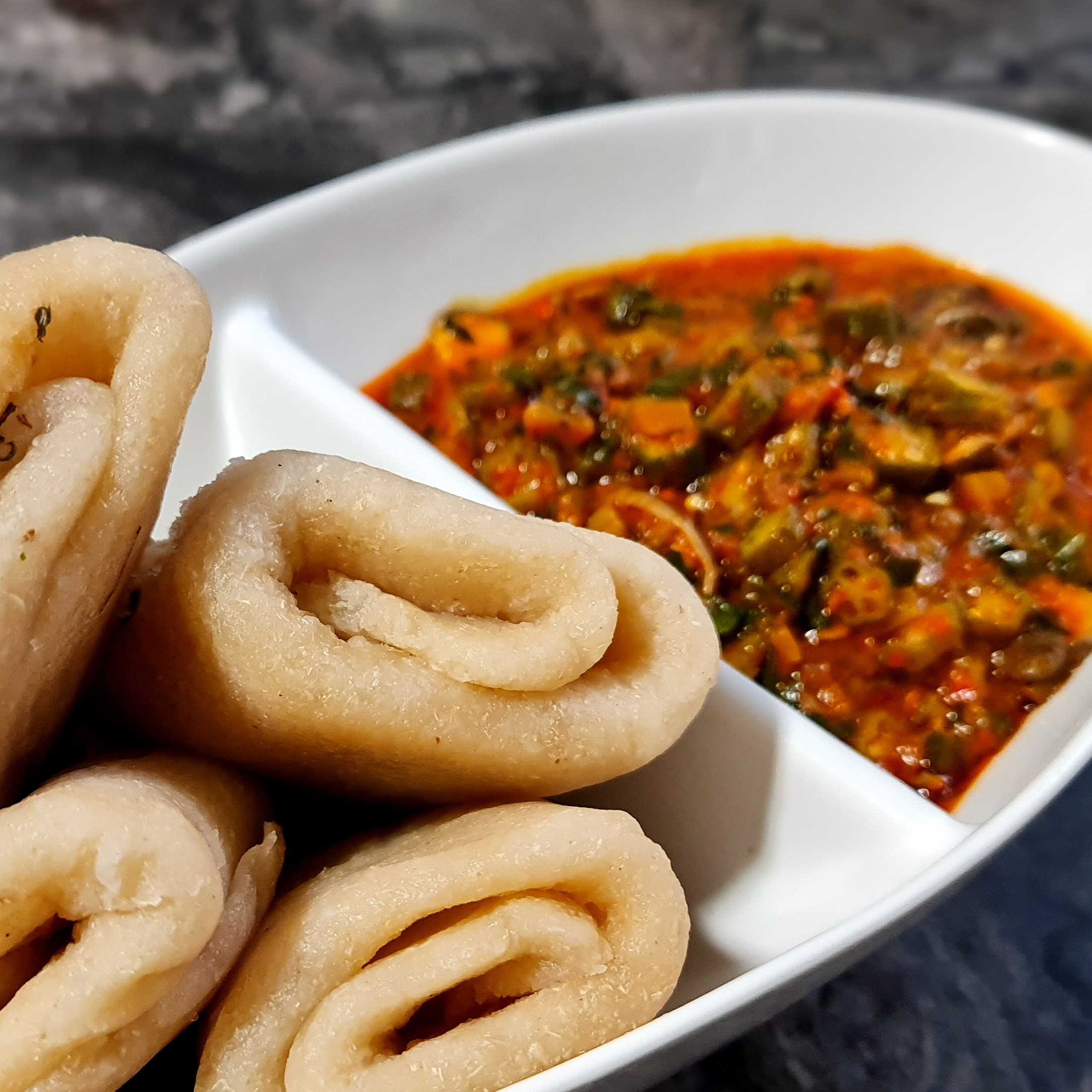 This dish by Duchess Nena was a huge hit in her debut West African cookery course for Made In Hackney and continues to be so today! It is a Ghanaian tomato-based okra stew enjoyed with fufu made from unripe green plantain.
Ingredients
Ingredients For Stew
• 2 cups Okra
• 1 cup Spinach
• 4 fresh Tomatoes / 1 tin plum tomato
• 1 scotch bonnet
• ½ red bell pepper
• ½ Onion
• 2 bouillon/ cube
• 1 teaspoon Iru (fermented oil seeds)
• Soya Chunks (optional)
• 1 cup mushrooms
• Salt to taste
• 1 cup red Palm oil
Ingredients For Fufu
Unripe plantain flour / fufu flour
Method
Okra stew
1. Add 1 cup of water, bell pepper, tomatoes, scotch bonnet in a blender and liquidize.
2. Pour oil in a clean dry pot/pan on medium heat for a minute.
3. Add chopped onion and stir fry for a minute.
4. If using soya chunks hydrate them by covering them with boiling water. Once hydrating drain and leave to cool for 2minutes then squeeze the water out of them. You can add them into the stew like this – or you can fry them in a little soya sauce for extra umami flavouring. Up to you.
5. Add blended pepper/tomato, iru, stock cubes and salt. Cook this for a 15 mins. Then add sliced okra, cooked veg meat if using and mushrooms and cook for a further 5 mins.
6. Add sliced spinach, cover pot and steam for 1 min.
7. Serve
Fufu
1. Add 3 cups of water in a pan on medium heat.
2. Add 2 cups of unripe plantain flour and stir until it becomes a smooth dough.
3. Dough should be soft but not soggy.
4. This process takes 5-10 mins.
5. Wrap in cling film till ready to eat.
To serve you roll the fufu into a ball and place at the side of the stew. To eat you break off a piece of fufu with your fingers then dip it into the stew – no cutlery is used. Or if you're fancy like Nena you can learn to roll your fufu like in the photo here. We recommend watching a YoutTube video for this!
You can find more of Duchess Nena's amazing recipes in her book Igbo Vegan. Igbo Vegan – Duchess Nena