Parsnip and Ginger Soup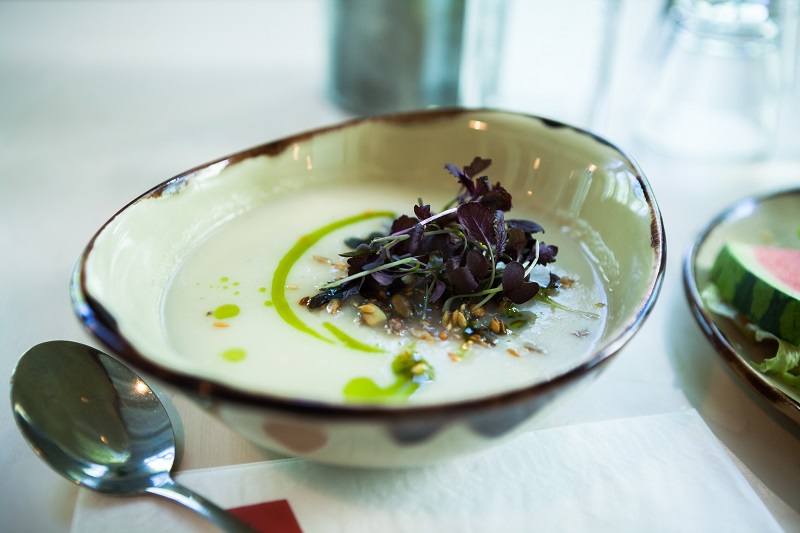 A creamy rich soup with delicate flavours. Delicious with soda bread.
Ingredients
500 grammes parsnips
1 large onion
2 garlic cloves
5cm piece of ginger
3 cardamom pods
1/2 teaspoon ground cumin
1/2 teaspoon cayenne pepper
1/2 teaspoon turmeric
1 tablespoon coconut oil
800 ml vegetable stock
200 ml almond milk
Sea salt and ground black pepper
Method
1: Chop the onions finely
2: Heat the coconut oil in a saucepan over a medium heat and sauté the onions for ten minutes
3: Take the seeds out of the cardamom and bash them. Add them to the onions with the garlic, ginger, cardamom, cumin, turmeric and cayenne and stir for two minutes
4: Peel and cut the parsnips into 1cm cubes and add to the pan mix
5: Stir well, and then pour in the stock, season with salt and pepper and simmer until the parsnips are very soft- about 15 minutes
6: Puree the soup with a soup blender or in a food processor until smooth.
7: Add the milk and warm through gently.
8: Add a pinch of sea salt and pepper to taste
9: To make it fancy decorate with mircrogreens and a streak of basil oil.
Tip: If the soup is a bit thick add some hot water from the kettle
Photo by Patrick Selin on Unsplash
---
---