Poached Pears and Walnut Ricotta served with German Biscuits and chocolate sauce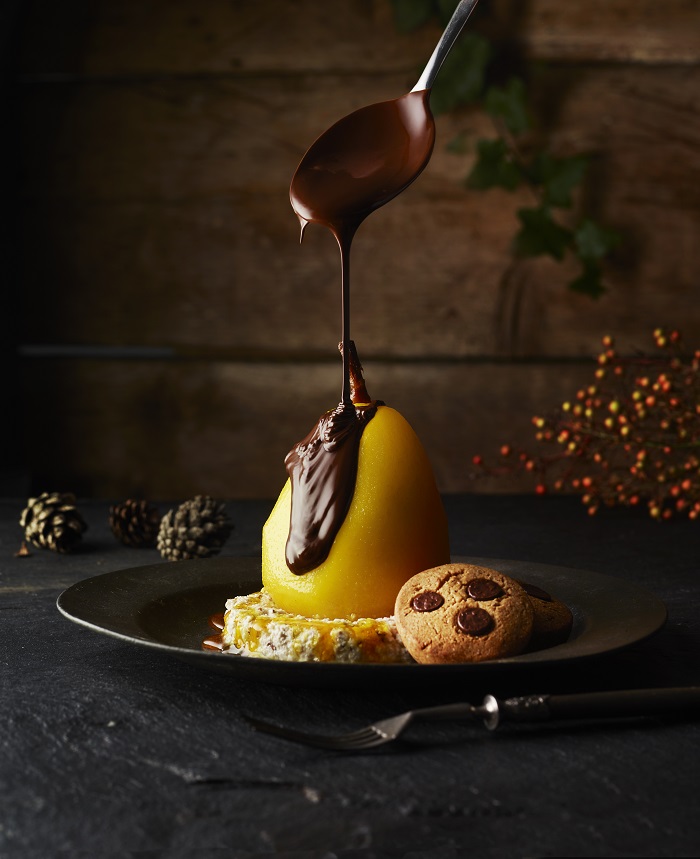 This epic festive dessert was created for us by top chef Anton Petrov. It's fancier and has more stages than a usual MIH recipe but it's festive and the finished result is well worth the effort.
Ingredients
Serves 6
Poached pears
6 comice pears, peeled
600g water
260g xylitol or 200g rice syrup
1/2 teaspoon saffron
2 tablespoons orange blossom water
2 star anise
5 cardamom pods, crushed
2 cloves
½ teaspoon salt
Walnut Ricotta
250grammes cashew nuts (soaked for at least 4 hours)
250grammes walnuts (soaked for at least 4 hours)
250grammes water
1 capsule of strong probiotic powder
1 teaspoon salt
Germen Ginger Biscuits
Makes 30 small biscuits - because it's always good to have lots of biscuits at Christmas
250grammes plain flour
85grammes ground almonds
1 1/2 teaspoons ground ginger
1 ½ teaspoons baking powder
1 teaspoon mixed spice (ground coriander, clove, nutmeg, black pepper)
200ml golden syrup (naughty!)
50ml vegan soya margarine
Dark chocolate drops
1 lemon zest
Chocolate Sauce
1 bar of dairy-free chocolate at least 55% cocoa
Method
Poached Pears
1: Put all the ingredients, except the pear, into a pan and bring to a gentle simmer. Cook for 5 minutes.
2: While this is simmering peel the pears.
3: You can either cut them in half or leave them whole. If halving, use a teaspoon to carefully core the seeds which can be discarded.
4: Place the pears into the poaching liquid and cover with a piece of paper that fully covers the liquid and bring to a gentle simmer.
5: Once simmering, cook for 5 minutes longer, then remove from the heat and leave to infuse for at least 2 hours or longer.
Walnut Ricotta
1: Blend the soaked cashews until creamy then add the probiotic. Leave covered in the container to ferment for 4 to 6 hours at room temperature (optional).
2: At this stage you can peel the walnuts if you prefer
3: Finely chop the soaked walnuts and add to the nut mix. Season with salt.
4: You can keep the cheese for up to week in the fridge.
German Ginger Biscuits
1: Mix the dry ingredients together, the flour, almonds, ginger, baking powder, and the mixed spices.
2: Heat the golden syrup, margarine and lemon zest together until melted.
3: Pour this onto the dried ingredients and mix well. The mixture will be very soft, so chill for 2 hours before using.
4: Pre-heat oven to 175C.
5: Roll into small balls then push a chocolate drop or two into the middle of each one, and place them onto a baking tray.
6: Bake for 12-14 minutes at 175C (non-fan). Lightly bake to a just golden colour all over. Cool slightly before glazing.
Chocolate Sauce
1: Boil water in a pan.
2: Break the chocolate into chunks.
3: Add to a Pyrex bowl and stand the bowl on top of the pan with the boiling water in. Leave here until the chocolate has melted.
To Serve
1: Shape the cheese into a circle – 2 cm wider than the poached pear.
2: Place the poached pear onto of the cheese circle.
3: Add a biscuit – or two to the plate.
4: Drizzle the chocolate sauce over the pear.
Photography by Chelsea Bloxsome for Made In Hackney.
---
---