Raw Chocolate and Coconut Cake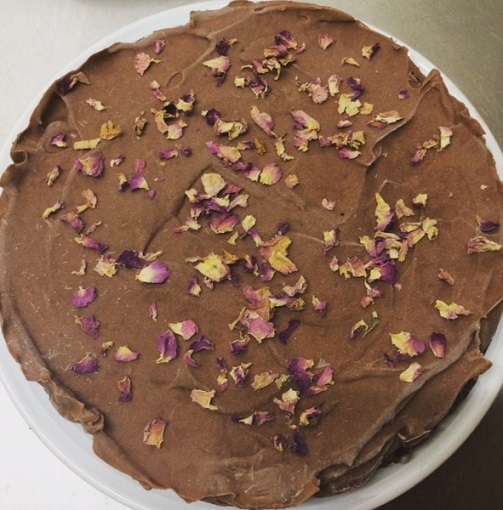 This cake is very simple and quick to make. Did you know that its main ingredient cacao means 'food of the gods' !
Ingredients
Filling Ingredients
300 grammes firm silken tofu
300 grammes coconut cream or solid part of a 500 mililitres tin of coconut milk
30 grammes raw cacao powder (or cocoa powder)
1/2 cup of date syrup
1 teaspoon of ground cardamom (optional)
1 tablespoon of dessicated coconut and/or edible dried rose petals to decorate (optional)
Base Ingredients
150 grammes walnuts
150 grammes dates
1 tablespoon cacao (or cocoa powder)
30 grammes coconut oil, melted
1 tablespoon date syrup
Method
1. Line a cake tin or baking tray with baking parchment
2. To make the base, blend the walnuts in a food processor until fine. Add the remaining base ingredients and blend until smooth. Press into the tin and refrigerate whilst you make the filling
3. Put the remaining ingredients in the food processor and blitz until smooth. You may have to scrape down the sides with a spatula and blitz again. Taste and add a little more date syrup if required.
4. Spoon the mixture in the tin, and put in the freezer for at least 2 hours.
5. Once set, remove from freezer and sprinkle over with your choice of topping.
6. Defrost the cake in a cool place about 1 to 2 hours before serving
Photo credit: Zoe Marks (The Nomadic Vegetarian)
---
---