Rhubarb Khoresh with Chickpeas & Chard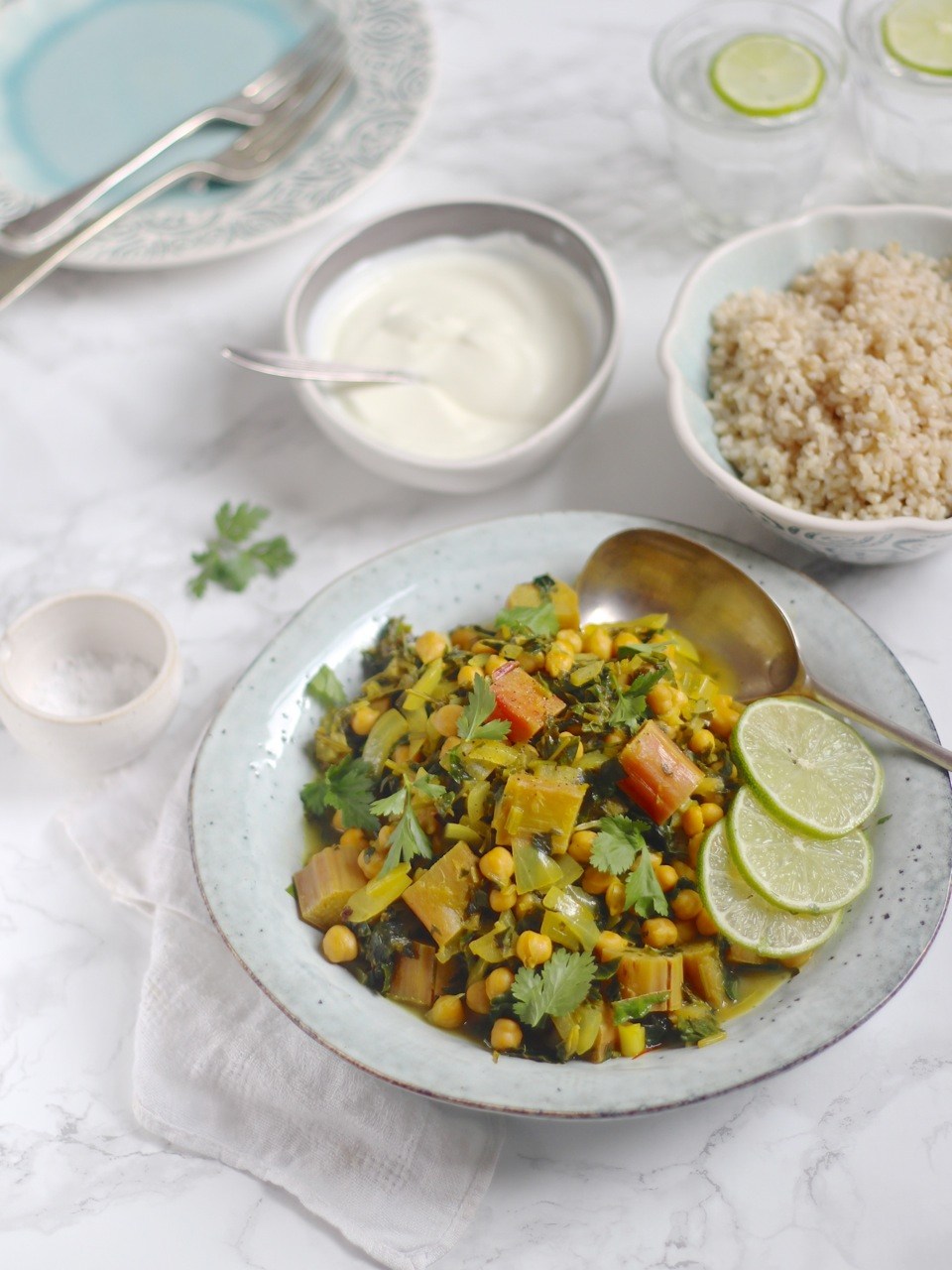 Made In Hackney teacher Ceri says about this dish, "Rhubarb Khoresh with Chickpeas & Chard is a Persian style vegan stew using the best of spring's seasonal British produce. Serve with coconut yoghurt, lime and brown rice or a wholegrain flatbread." Yum.
Ingredients
1 x 400g carton chickpeas, drained
1 onion, finely diced
200mls hot vegetable stock
200g rhubarb, chopped into 1cm pieces
2 limes
35g parsley, finely shredded, reserving some for decoration
35g coriander finely shredded, reserving some for decoration
½ teaspoon ground turmeric
Small handful of mint (ideally more, my plant isn't doing so well right now)
Pinch saffron, soaked in 1 tablespoon hot water
Handful chard leaves, shredded
Maple syrup to taste
Pinch Sea salt
Black pepper
Method
Heat a medium sized saucepan with 1 tablespoon of olive oil to medium-hot and saute the onions for 5 minutes until softened. Add a pinch of salt, good dose of black pepper, turmeric and stir.
Meanwhile also heat a frying pan to medium heat with a tablespoon of olive oil and pan fry the herbs for 5 minutes. Stir regularly.
To the softened onions add the stock, chickpeas, fried herbs, soaked saffron and bring to the boil. Reduce to a simmer then add the juice of 1 lime and the rhubarb, cover and simmer for 10 minutes. Add the chard and cook for a further 2 minutes.
By now the rhubarb should be softened, yet not mushy or stringy. Taste and if too sour add a teaspoon or two of maple syrup or honey to sweeten. Also add more salt and pepper if required and another juice of half a lime to brighten it, reserving the rest as slices or wedged as a garnish.
Pile up the stew into a serving bowl or take the saucepan straight to the table. Garnish with some extra herbs.
This recipe and photo is courtesy of Made In Hackney cookery teacher Ceri Jones of Natural Kitchen Adventures