Rice 'N' Peas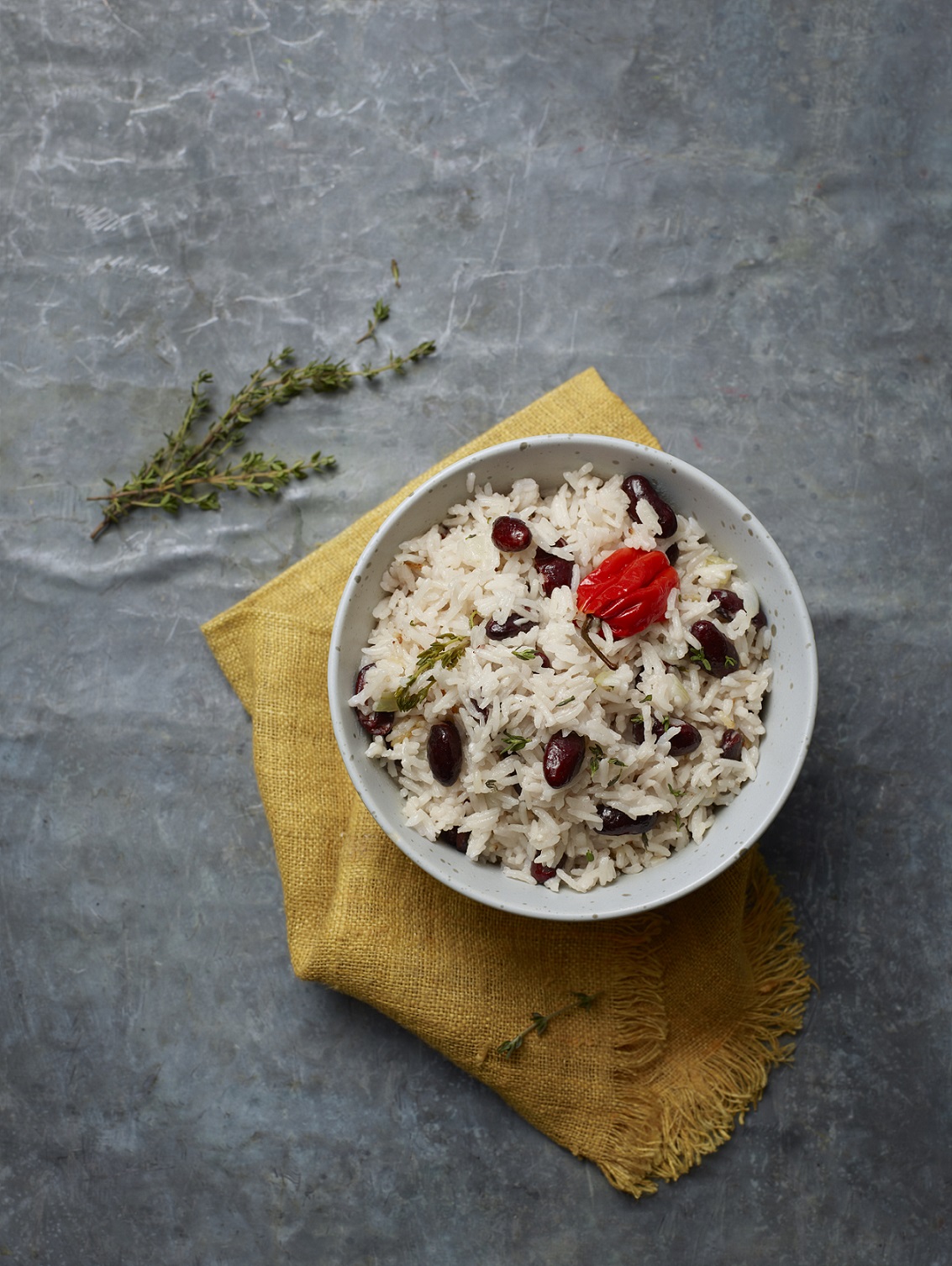 A classic caribbean side dish. Try with our Sweet Potato, Black Bean and Plaintain Caribbean Curry. The recipe is by MIH chef Mark Breen from our Thrifty Feasts 2 recipe book.
Ingredients
400g can of kidney beans
400g white rice (brown rice also works and is healthier)
200ml coconut milk
1 garlic clove
1 onion
¼ teaspoon ground allspice
2 sprigs of thyme
1 tablespoon of coconut oil
1 whole scotch bonnet chilli (to add warmth to the dish, not to eat)
200ml water
Method
1. Rinse the rice.
2. Chop the onion and garlic into thin pieces. You can lightly sauté or add in raw.
3. Add the rice, onion and garlic to a pan shortly followed by the coconut milk and water, kidney beans (including juices from the can) and allspice.
4. Next add the thyme and scotch bonnet. There are two methods: add sprigs of thyme and scotch bonnet chilli whole and remove both after cooking, or add the thyme leaves to the pot and slice ¼ scotch bonnet into small pieces and add to the rice and do not remove.
5. The liquid should come about 3cm above the level of the rice and beans. Bring to a simmer, then cover with a lid, turn the heat right down and cook for about 10 to minutes (don't stir the rice, but you can scrape the bottom of the pan from time to time, to ensure rice on the bottom isn't burning.)
6. Locate and carefully remove the chilli and thyme sprig if you've gone for that method. Fork through the rice to fluff it up.
Photography by Chelsea Bloxsome for Made In Hackney www.chelseabloxsome.com
Food Styling by Jack Sargeson for Made In Hackney @jackspacesargeson
Assisting by Natasha Middleton for Made In Hackney @nattamidd