Roast Purple Sweet Potato & Cauliflower Soup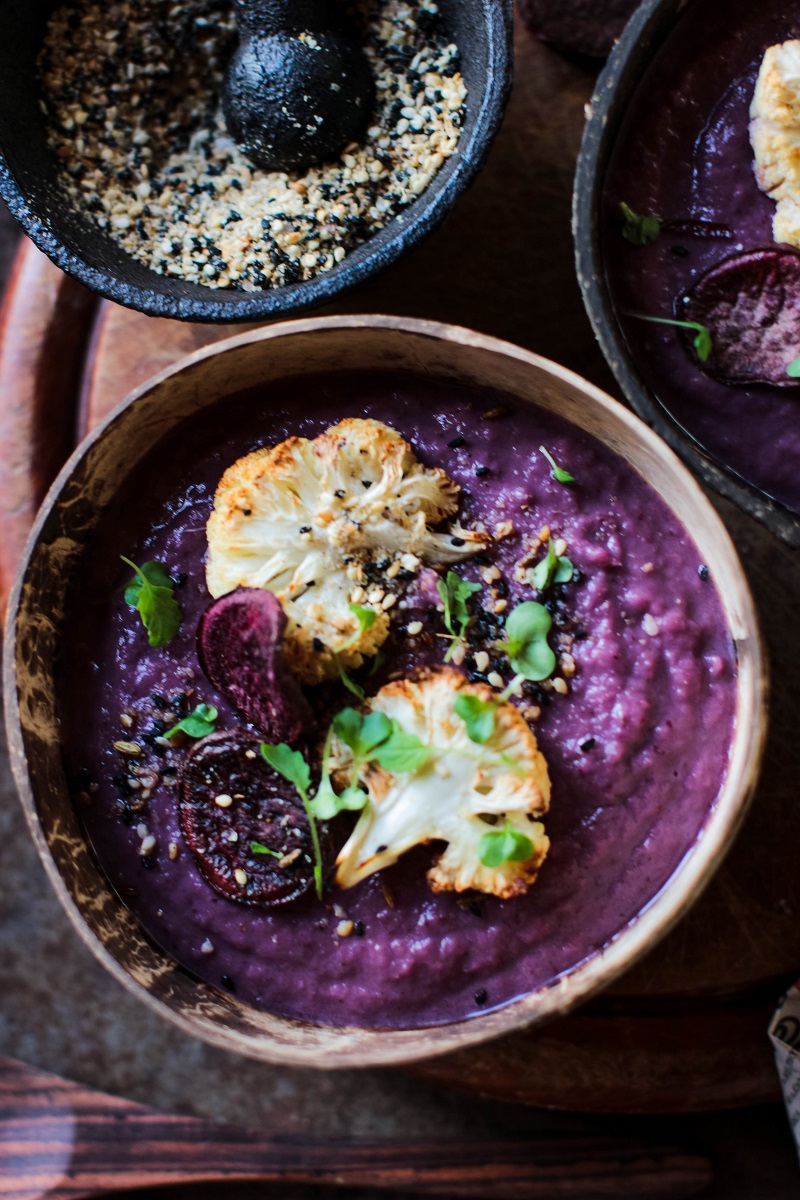 Just look at that colour! This show stopping soup tastes as good as it looks - and thats a tall order. The chef behind this wonder is our supporter Niki Webster, creator of the awesome food blog Rebel Recipes.
Ingredients
2 purple sweet potatoes washed and chopped (slice a few thin slices to make crisps)
1 head of cauliflower chopped - including the leaves
1 tablespoon olive oil
Salt
Pepper
1 onion roughly chopped
2 tablespoon olive oil
3 cloves garlic sliced
Organic veg stock in 1.5 pints boiling water
Salt
Pepper
Toppings
Gomashio
Method
1. Pre heat your oven to gas mark 5 (190c).
2. Add the chopped potatos, sliced, cauliflower florets and leaves to a roasting tray then toss to coat them in olive oil, salt & pepper. Roast for aprox 35- 40 minutes until crispy. Set aside.
3. Add the onion to a large saucepan with the oil and cook on a medium heat until the onions are soft. Add in the garlic and cook for a further 30 seconds then add the roast veg (reserve a few cauliflower florets for garnish).
4. Fry for 2-3 minutes then add the veg stock. Blitz the soup with a food processor or hand blender until smooth and creamy. Simmer for 10 minutes, then add salt and pepper to taste.
5. Great topped with a a few pieces of roast cauliflower, sweet potatoes crisps and gomashio.
This beautiful soup was created by our pal Niki Webster from stunning food blog Rebel Recipes.