Roasted Beetoroot Salad with Citris and Tarragon Cashew Cheese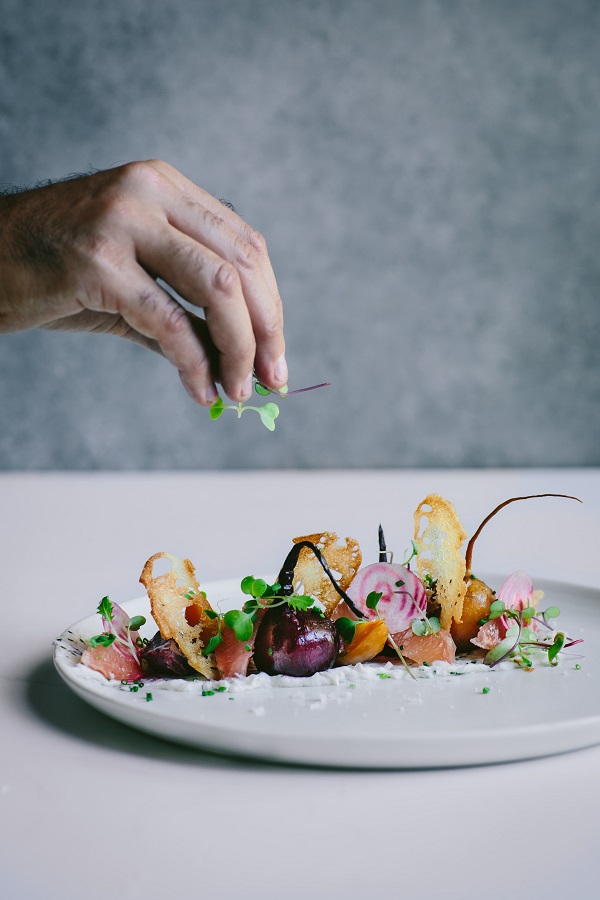 This sumblime salad is restaurant standard fancy - but then it would be seeing as it was created by chef Chad Sarno for his former raw food restaurant Saf. This is a great pal impressing summer dinner party starter - or whatever treat yourself and make it for yourself. Of the dish Chad says, "Slow roasting the baby beets gives them a deep sweetness that balances the earthiness. Watercress brings sharpness and bite. Cashew cream contributes richness. Sherry vinegar has the spark (but we're swapping for balsamic vinegar to be inclusive). Bread crisps give it crunch. Between the textures and flavors—and even the colors—this sexy dish just hits all the buttons." We love the fact Chad describes a salad as sexy! Warning - this salad uses A LOT of ingredients! But so worth it.
Ingredients
Roasted Beetroots
12 small beetroots (3 pounds), rinsed, stems trimmed
1½ tablespoons extra virgin olive oil
3 sprigs fresh lemon thyme or regular thyme
Sea salt and freshly ground black pepper
4 slices fresh lemon
2 tablespoons balsamic vinegar (Chad uses Sherry vinegar but as we're a community kitchen we're alcholo free)
1½ tablespoons chopped fresh chives
BREAD CRISPS
1 small baguette (about 6 inches), frozen
1 tablespoon extra virgin olive oil, for pan-frying
1 teaspoon granulated garlic
½ teaspoon sea salt
TARRAGON CASHEW CREAM (Makes About 1¾ Cups)
1½ cups raw cashews
About 1/3 cup water
Juice of ½ lemon
2 tablespoons nutritional yeast
1½ tablespoons minced fresh tarragon
½ tablespoon minced fresh chives
1 teaspoon sea salt
ASSEMBLY
About 1 cup Tarragon Cashew Cream
2 grapefruits or oranges, segmented
1 cup small watercress leaves or microgreens
½ tablespoon best-quality extra-virgin olive oil
Squeeze of lemon
Flake salt, such as Maldon
Cracked black pepper
Method
Serves 6-8
For the beetroots
1: Preheat the oven to 250ºF. Cut a giant sheet of foil twice the length of a baking sheet and place half of it on the pan.
2. In a bowl, toss the whole beets with the oil and thyme sprigs and season with salt and pepper. Pour the beets onto the foil and scatter on the lemon slices. Leave space between the beets so they can steam. Fold over the other half of the foil and crimp all the edges, sealing the package tightly. Place the pan in the oven and slow roast until the beets are tender enough for a fork to slide in and out easily, 50 to 60 minutes, depending on the size of the beets. Open the package and let cool.
3. When cool, put on some gloves to prevent staining yourself and peel away the beet skins with a paring knife (not under running water). Then slice the beets into small wedges. At this point the beets can be chilled in the fridge for a day or two before serving.
4. Just before serving, toss the beet wedges in a bowl with the vinegar and chives. Taste a wedge, then season with more salt and pepper until it tastes good to you.
For the bread crisps
5: Defrost the bread slightly.
6. Heat the oil in a frying pan over medium-high heat.
7. While the bread is semi-frozen, cut into paper-thin slices on a mandoline. Place each slice one-by-one into the hot pan and cook until lightly browned and crisp, turning for even cooking, about a minute per side. Place on paper towels and immediately season with granulated garlic and salt. They will crisp up as they sit.
For the cashew cream
1.Soak the cashews for at least 3 hours or overnight in water to cover. Drain.
2. Using a high-speed blender, blend the soaked cashews, 1/3 cup water, and lemon juice until super smooth and the consistency of sour cream, about 2 minutes. You may need to add a little more water to get the right consistency. Make sure the mixture is swirling constantly in the blender for total smoothness. You could use a standard countertop blender, but you'll have to blend longer for super smoothness. You could also use a food processor, but the finished cream will not be as smooth.
3. Pour the cashew cream into a mixing bowl and stir in the nutritional yeast, tarragon, chives, and salt. Cover and chill for up to 2 days. Bring back to room temp before using.
To assemble each plate
8: Spread 1 to 2 tablespoons cashew cream in a line on the bottom of the plate. Arrange the beets, citrus segments, and bread crisps over the cashew cream, alternating the pieces.
9. Toss the watercress with the olive oil and lemon juice in a small bowl. Arrange the dressed watercress over the top of the salad. Finish with a pinch of flake salt and cracked black pepper.
PRO TIPS
*To get a jump on things, make the cashew cream and beets up to 2 days ahead and chill them in the fridge. You can even make the bread crisps a day ahead. Then just assemble everything and serve.
*Look for a mix of colorful beets like orange, red, and Chioggia (candy cane).
*Instead of crisping the bread in a pan, you could toss the paper-thin slices with olive oil and bake in a single layer at 350ºF until crisp.
This awesome recipe comes from The Wicked Healthy Cook Book by Chad and Derek Sarno and David Joachim available from Waterstones . Reprinted with permission by Grand Central Life & Style. All rights reserved.
Photography by Eva Kosmas Flores