Roasted Cauliflower Schwarma Steaks with Zhoug Couscous, Chickpeas, Tahini & Pomegranate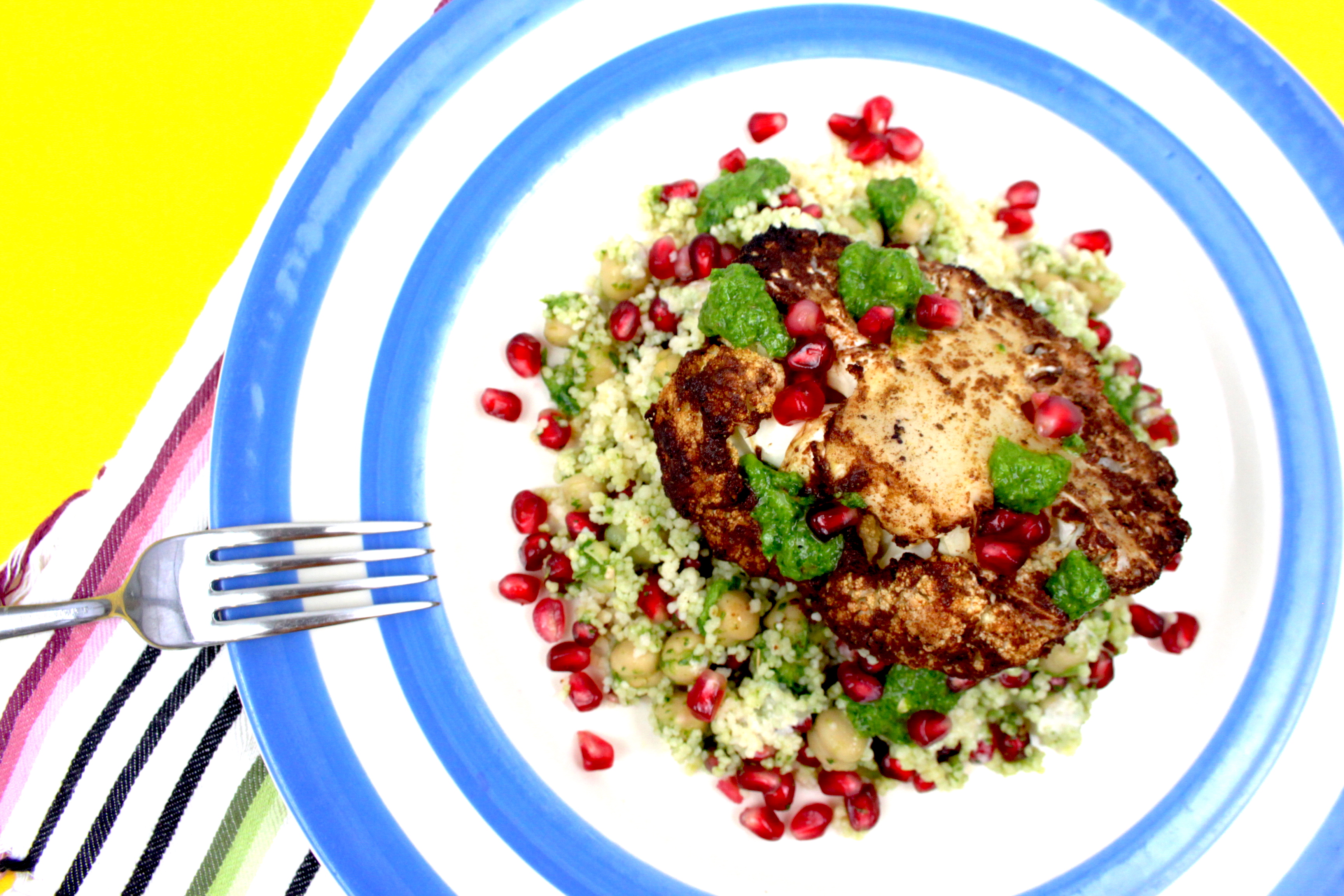 Ohh get you with all those fancy words in the recipe title. This Middle Eastern inspired recipe comes from our pals over at Make Kit – the UK's first veggie and vegan recipe bag social enterprise! Their co-founder and MIH cookery teacher Steve Wilson says about the recipe, "2017 was a game changing year for cauliflower. The humble cauli's image went from a soggy side to becoming the alchemist's dream ingredient. When roasted, it's sweet, nutty, yeasty richness really gets a chance to shine. There's also an element of theatricality to the cauliflower being served as a roasted centerpiece, with its burnt smoky edges and incredible Fibonacci marbling." Yeah he said Fibonacci. We googled it to. But anyways – this tastes amazing and only takes 30 minutes to make. Enjoy.
Ingredients
Serves 2
1 Cauliflower
1 Lemon
1 Schwarma Rub: 1 tsp cumin, 1 tsp sumac, 1 tsp cinnamon, 1 tsp coriander, ¼ tsp nutmeg, ¼ tsp cardamom, ¼ tsp allspice
80g Couscous
½ Pomegranate
1 tin Chickpeas (220g)
25g Tahini,
1 clove Garlic
1 Zhoug Mix: 12g parsley, 12g coriander, 8g green chilli, 1 clove garlic, 30ml olive oil, 12.5ml white wine vinegar, ¼ tsp ground cumin, ¼ tsp salt
Dash Olive oil
You need: olive oil, water, salt and pepper
3 of your 5 a day
Method
Preheat the oven to 220°C / 200°C fan / 420 F / gas mark 7.
Cut the bottom off the cauliflower and cut in half. Peel away the outer leaves.
Place the cauliflower[s] onto a baking tray, flat side down.
2. Mix together 50ml of olive oil with the MK Schwarma Rub Mix and a pinch of salt.
Use a brush or use your hands to rub the schwarma rub into the cauliflower, trying to get it into every nook and cranny.
Place the cauliflower in the oven to bake for 25 minutes.
3. Boil 150ml of water in a kettle.
Put the couscous into a bowl and pour 1 tablespoon of olive oil over the grains.
Season with a pinch of salt.
Use your hands to massage the oil onto the grains.
Chef's tip: fluffy couscous
Massaging the oil onto the couscous means that each individual grain is coated with oil. This stops them from sticking together so you end up with couscous that is easy to fluff up, and not a stodgy clump.
4. Pour 150ml of boiled water over the couscous and cover with a plate or cling film to steam for 10 minutes.
Chef's tip: fluffy couscous pt. 2
It's important to get the right ratio of liquid to grain with couscous so that it is not too wet and not too try. You need an equal ratio of volume. So 1 cup couscous to 1 cup water, or 200g of couscous to 400g/ml of water.
5 .Chop the pomegranate in half and deseed by picking out the pomegranate jewels into a bowl.
Be careful not to get bits of the white pith in with the sweet and sour jewels.
And wear yourself an apron to be sure not to dye your clothes pink!
6.Open and strain the tin of chickpeas.
Add all of the chickpeas, along with half of the MK Zhoug Mix and most of the pomegranate seeds to the couscous.
Reserve a few pomegranate jewels and some MK Zhoug Mix to garnish the dish.
7.Crush the clove of garlic, add 10ml cold water and the juice from half the lemon to the tahini mix along with ¼ tsp of salt and whisk until you have a smooth sauce.
8.Check that the cauliflower is cooked through soft to the centre. Squeeze the rest of the lemon over the cauliflower.
To serve place the chickpea and couscous mix onto a plate.
Place half a roasted cauliflower on top.
Garnish with the tahina sauce, along with the remaining Zhoug and pomegranate seeds.
Make Kit is the UK's only plant-based (veggie and vegan) recipe kit social enterprise. By buying a recipe kit bag from them you support them to deliver cookery classes and subsidised bags to groups most in need. Find out more and order a bag from: http://https://makekitfood.com/
---
---