Roasted Mushroom Broth with Kimchi and Tempeh.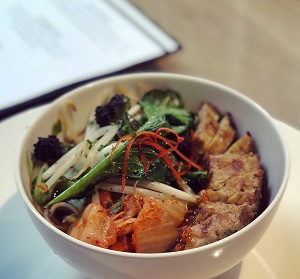 The rich broth is made by roasting the late summer's mushrooms and combniing them with two ferments to make a delicious and hearty ramen bowl. Mushrooms are one of nature's most delicious foods, and they are used here to make a deep-flavoured broth. The kimchi adds a spicy nutritious kick, and the tempeh a source of vegan protein.
Ingredients
(Serves 4)
1 kg chestunut mushrooms (these work well, but check out the varieties available at your local markets)
200 g tempeh / 50 mL soy sauce
200 g ramen noodles
120 g kimchi
1 handful bean sprouts
2 handfuls of leafy veg (chard, kale, spinach, cavolo nero)
1 red chilli finely sliced
25 g freshly grated ginger
20 g each finely chopped chives & coriander
olive oil
rice vinegar
Method
1: Cut mushrooms into quarters and place into a roasting tray in a single layer: salt and then dress with olive oil. Leave for 10 minutes before adding 50 mL of water to the tray and roasting at 160 C for 20 minutes
2: Marinade tempeh in soy sauce for 20 minutes.
3: Meanwhile: roughly chop the leafy greens, combine with beansprouts, wash, then dry in salad spinner. Cut the pepper in half, remove the seeds and then slice finely.
4: Take the mushrooms out of the oven and strain off the roasting juices. Dilute to 600 mL with boiling water and flavour with soy sauce and rice vinegar. Add soy sauce first until it's rich and savoury, then add rice vinegar until it tastes bright but not acidic. Grate in fresh ginger and leave to one side.
5. Cook ramen noodles as per the instructions ont the packet.
6: Drain the tempeh, pat dry and cut into 50 g pieces and pan fry until golden. Put to one side.
7: Finally on a high temperature with a little oil, pan fry the greens and beansprouts until wilted (1-2 mins). Salt to taste. Put to one side.
8. Put 150 ml of mushroom broth into a bowl. Pull ramen noodles out with a fork, allow them to drain and put stright into the broth. On top of the noodles, place: tempeh, vegetables, kimchi and chilli.
9: Dress with chopped herbs and olive oil.
(The mushrooms themselves should be roasted further to use in this dish or another dish.)
Photo credit: Chris Bartlett @epoxidize