Roasted Veg With Peanut & Zingy Herb Dressing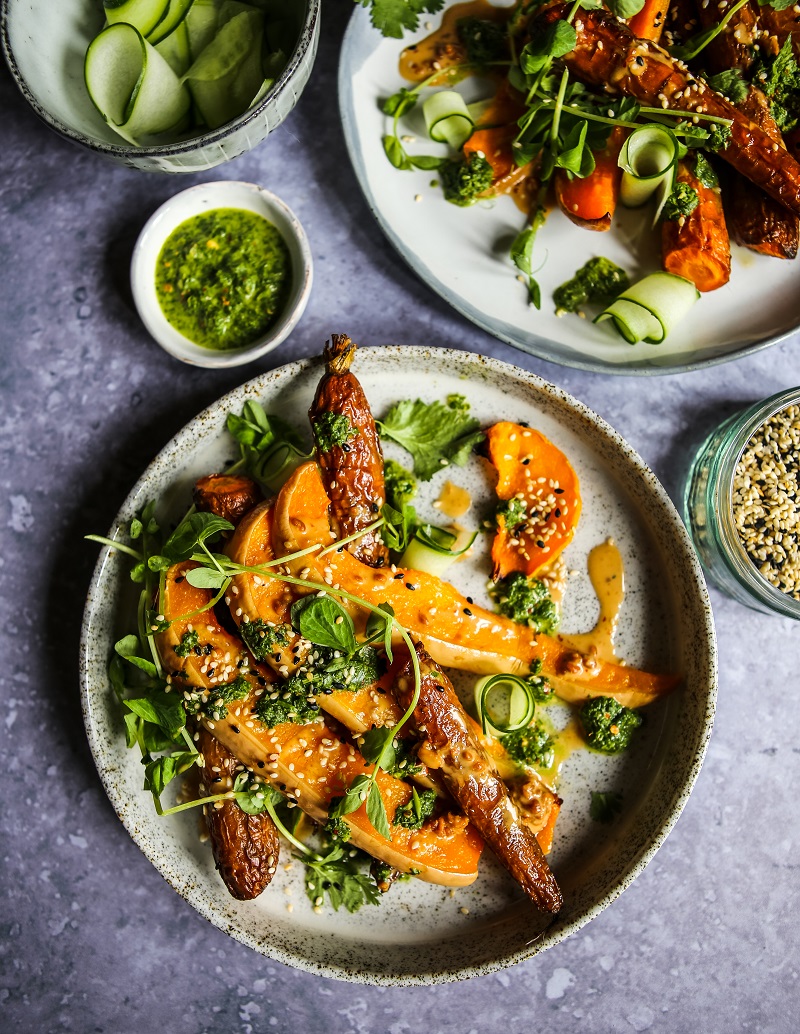 Sweet, zingy and pretty simple to make. What is there not to love about this dish created by Niki Webster from Rebel Recipes.
Ingredients
8 carrots topped and chopped up is very large
1 medium butternut squash sliced lengthways
2 tablespoon olive oil
Big pinch sea salt
Black pepper
To make the peanut dressing
1 tablespoon tamari
1 tablespoon toasted sesame oil
6 tablespoon coconut milk
1 teaspoon maple syrup
1 teaspoon brown rice vinegar
1 teaspoon brown rice miso
3 tablespoon chunky peanut butter
1/2 teaspoon garlic granules
1/2 teaspoon Chilli flakes
For the herby sauce
2 big handfuls coriander
2 big handfuls mint
Juice 1 lime
8 tablespoons coconut milk
1/2 teaspoons chilli flakes
1/2 teaspoon salt
Gomashio
4 tablespoon white sesame seeds
2 teaspoons black sesame seeds
1/2 teaspoon sea salt
Toppings
Shaved cucumber
Herbs
Method
For the roast veg
1. Pre heat your oven to 180c.
2. Place the veg on a baking tray and coat in olive oil, salt and pepper.
3. Bake for 50 -60 minutes until soft in the middle and caramelised on the outside. Keep your eye on them as they will cook at varying times.
To make the peanut sauce
4. Add the ingredients to a large bowl or mason jar and mix well to combine.
For the herby sauce
5. Add all the ingredients to a mini chopped or blended and blitz to combine.
To make the gomashio
6. Dry toast the sesame seeds and salt in a pan until lightly toasted. Be careful not to burn. Set aside.
To serve
7. Drizzle or toss the veg with the peanut sauce, top with the herby dressing, gomashio, shaved cucumber and fresh herbs.
This divine recipe was created by our supporter Niki Webster over at Rebel Recipes.