Roasted Vegetable Pizza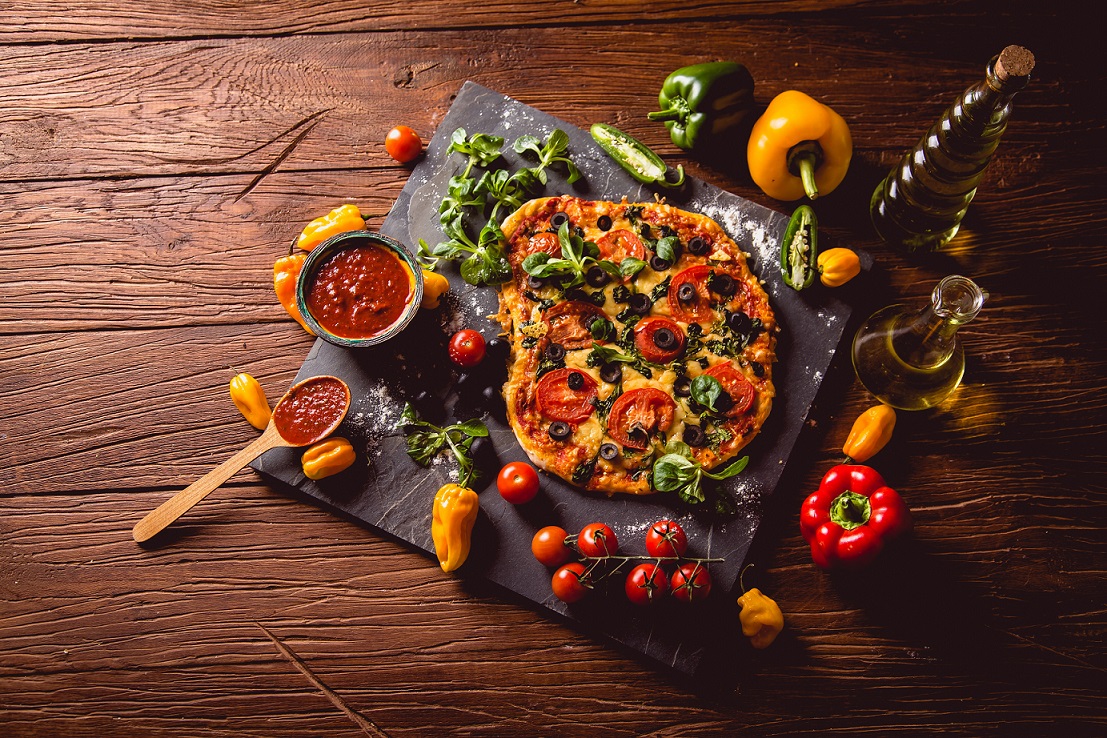 A firm favourite at our cookery classes and sure to be with the whole family. You'll be surprised how easy, cheap and delicious homemade pizza can be. The recipe is by MIH chef Mark Breen from our Thrifty Feasts 2 recipe book.
Ingredients
For the dough
500g wholemeal or spelt bread flour
1 teaspoon date syrup
1 teaspoon salt
7g yeast
2 tablespoons extra virgin olive oil
320ml warm water
Pizza toppings
1 each of red, yellow or green pepper
1 red onion
100g mushrooms
1 teaspoon dried oregano
Tomato sauce
400g can tomatoes
Handful of basil leaves
2 cloves garlic
Cashew cheese (optional)
50g cashews
1 tablespoons nutritional yeast
½ teaspoon sea salt
¼ teaspoon garlic powder
Method
1. Mix the yeast with a small splash of the warm water and date syrup – this wakes the yeast up.
2. Sieve the flour and salt into a bowl. Then add the olive oil and then the yeast mixture. Mix with your fingertips in a clockwise motion. Then pour in a third of the remaining warm water, continuing to mix with finger tips (the mixture should start to look like bread crumbs), then pour half of the remaining water, continuing to mix with your fingertips (the mixture should now look like ripped rags), then pour in the remaining water and the mix should come together in to a slightly sticky dough.
3. Knead with the palm of your hands for 10 minutes.
4. Shape the dough into a ball and place in an oiled bowl to prove. Leave covered with a cloth or lightly oiled cling film in a warm area for 1 hour. When the dough has doubled in size it is ready.
5. Thinly slice the mushrooms, onions and pepper. Crush the garlic.
6. Prepare sauce by adding olive oil to a saucepan and adding the garlic and basil stalks very finely chopped. Cook gently to flavour the oil, now add the can of tomatoes and simmer for 20-25 minutes until the sauce has thickened. Add the basil leaves and set aside.
7. Prepare cashew cheese by blitzing raw cashews, sea salt, nutritional yeast and garlic powder in a food processor or with a pestle and mortar until they look like small crumbs.
8. Preheat oven to 200°C / gas mark 6.
9. Divide dough into 4 equal balls and roll out to your desired pizza thickness and transfer to a parchment-lined round baking sheet. Top with desired amount of tomato sauce, a sprinkle of cashew cheese and the veggies.
10. Bake for 15 minutes or until crisp and golden brown.
11. Serve with remaining cashew cheese, dried oregano and red pepper flake.