Root Vegetable Gratin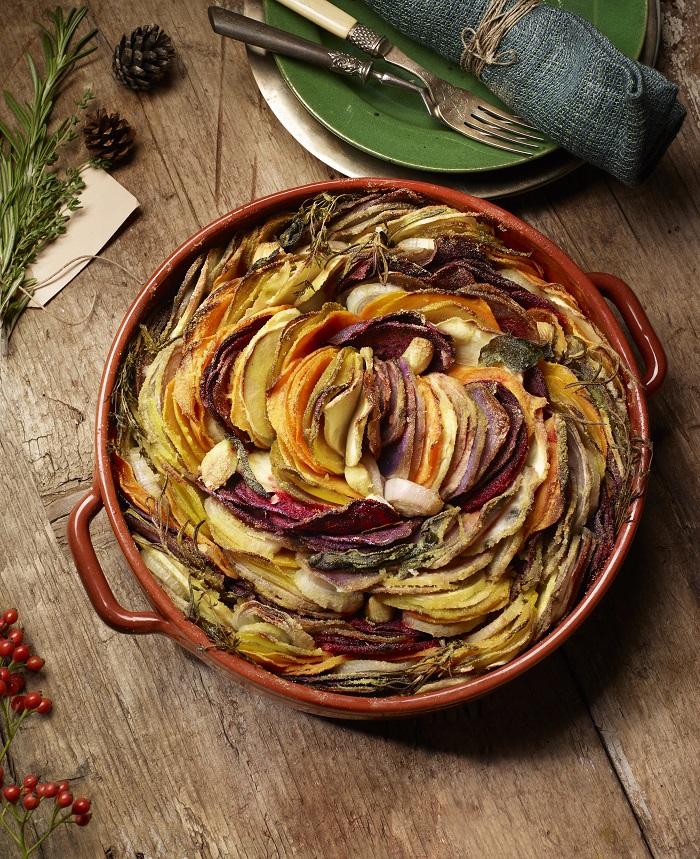 This beautiful looking table centrepiece uses all the winter root veg imaginable and is surprisingly easy to do - you just need a mandolin and you're off. Failing that a sharp knife will do but will be a much slower process.
Ingredients
Serves 6
2 large red skin potatoes
2 carrots, peeled
2 parsnips, peeled
2 red onions
1 sweet potato or cylinder part of butternut squash, peeled
2 beetroots, peeled
4 cloves garlic, sliced
Handful of sage and rosemary leaves (remove stalks)
4 tablespoons olive oil
2 tablespoons fine polenta
1.5 teaspoons flaky sea salt
1 teaspoons freshly ground black pepper
Method
1: Preheat oven to 200C/Gas 6.
2: Slice the vegetables into even discs using a mandolin or the thinnest setting on a Magimix. If using a mandolin you will be slicing for twenty minutes so meditate!
3: Layer the slices into a gratin dish, standing up, packed in together, alternating the colours of vegetables. Get creative – it's Christmas.
4: Push the garlic, sage and rosemary leaves in between the vegetable discs. Drizzle with olive oil, sea salt and polenta.
5: Bake for 1 hour until cooked with crispy tops.
Photography by Chelsea Bloxsome for Made In Hackney