Salted Caramel Truffles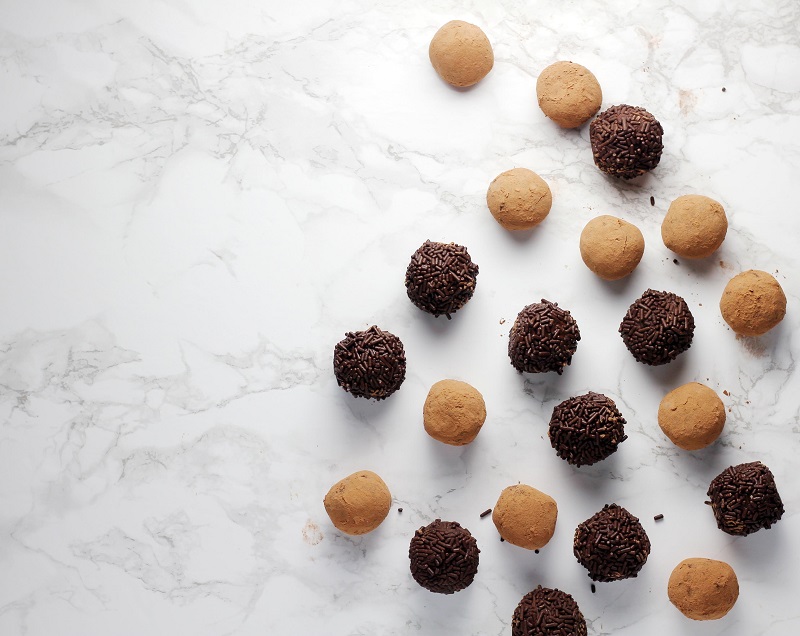 These sweet treats are crunchy on the outside and creamy and salty-sweet on the inside. By MIH teacher Renee Taylor (adapted from a recipe from Minimalist Baker).
Ingredients
Makes about 20 truffles
400 grammes Medjool dates, pitted
1 x 200 gramme bar dark xylitol-sweetened chocolate, chopped
3 tablespoons natural salted peanut butter (creamy is best, but crunch works too)
1 tablespoon melted coconut oil
1/2 teaspoon sea salt + more for topping
Method
1. If your dates aren't sticky and super moist when squeezed, soak in hot water for 10-15 minutes to soften then drain thoroughly and pit. Otherwise just pit and add to the food processor.
2. Blend/pulse your dates until they form a loose "dough." Mine usually turns into a ball, which is what you're going for.
3. If it's not quite combining, drizzle in a tiny bit of warm water - 1 teaspoon at a time - scraping down sides as needed, and mix until a rough paste or ball forms. If you add too much water it will be difficult to handle them later as they won't freeze well.
4. Lastly, add 1/2 teaspoon sea salt and mix once more to incorporate. Taste and adjust saltiness level if desired.
5. Using a small melon baller (or a tablespoon and finger) scoop out small balls and roll/form them into balls. Place on a parchment-lined baking sheet and freeze for 20-30 minutes to set.
6. Remove from freezer and drizzle on the peanut butter until the top of each ball is coated. If your peanut butter is super firm and not spreadable (meaning it's either dry or not the natural variety), add it to a small mixing bowl with 1/2 tablespoon coconut oil and microwave to melt (or heat in a small saucepan). Stir to combine then proceed as instructed.
7. Freeze again for another 15-20 minutes, or until the peanut butter has formed a semi-firm "shell."
8. Warm the chocolate over a double boiler or in a microwave at 30 second increments with 1 tablespoon of coconut oil.
9. Remove truffles from freezer and, using a fork, scoop truffles up and quickly immerse in chocolate, using a small spoon to drizzle chocolate evenly on top. Then gently shake off excess chocolate and place back on parchment-lined baking sheet. Alternatively, you could place the truffles on a fork and drizzle the tops with chocolate. Freeze to set again, then dip the bottoms in chocolate and place on parchment to cool. This achieves less of a "shell" and more of a drizzled effect.
10. Top truffles with a small sprinkle of sea salt (optional), and repeat until all truffles are coated.
11. Place back in freezer or fridge to set - this should take about 30 minutes. Set out from the freezer or fridge to serve. For softer truffles, leave them until at room temperature. Roll in cocoa dust, coconut or scatters to finish.
12. Store in a freezer-safe container in the fridge or freezer to keep fresh.
Photo Credit: Photo by Sheri Silver on Unsplash
---
---