Sarah's Plantain 'n' Ackee Nyam Down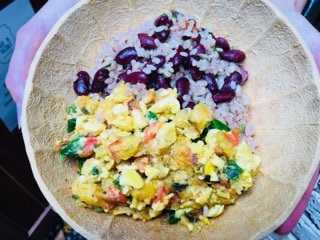 This is a Caribbean style Ital feast from MIH founder Sarah. She learnt to cook in Jamaica as a reggae journalist and loves to cook hearty, Caribbean dishes - like this.
Ingredients
Rice 'n' Peas
360grammes short grain brown rice (90grammes per portion)
1 can of kidney beans or 410 grammes of pre-cooked kidney beans
1 can coconut milk OR 1/5 block of coconut cream
1 small to medium size onion OR two scallions/spring onions
1-2 garlic cloves
1/8 of a scotch bonnet pepper
4 sprigs of Thyme
½ teaspoon of pimento
½ teaspoon of black pepper
Plantain & Ackee Cook Down
540 gramme of tinned ackee (undrained weight)
2 ripe plantains
5 ripe tomatoes
300 grammes greens – callaloo, spinach or curly kale
1 small onion or two spring onions/scallions
1cm knob ginger
4 sprigs thyme
1 tablespoon apple cider vinegar with mother
Method
For the Rice 'n' Peas
1: Dice onion and garlic and set aside.
2: Add all the rice to a saucepan.
3: Add a tin of coconut milk.
4: Add boiling water until there is a 2cm layer of water above the uncooked rice.
5: Add the garlic and onion to the pan.
6: Add the tin of undrained kidney beans to the pan if you'd like rice to take on a pinkish hue. If concerned about BPA leakage from tins, drain and rinse kidney beans first then add to pan.
7: Cut 1/8 of the scotch bonnet into small slithers, as small as you can make each piece and add to the pot. Wash your hands, utensils and chopping board after doing this.
8: Add the thyme to the rice – ripping the leaves from the woody stem with your finger nails.
9: Add ½ teaspoon of pimento.
10: Add ½ teaspoon of black pepper.
11: Bring pan to boil and then reduce to a medium heat and simmer until 90% of the water has been absorbed by the rice. I place a pan lid half on so some of the steam can escape – but not all of it.
Note – Do not stir the rice – you'll make it go gloopy.
12: Turn the heat off and cover fully with saucepan lid and leave to finish cooking for at least 15minutes.
For the Platain 'n' Ackee Cook Down
1: Tip the ackee into a colander, drain salted water and gently rinse and set aside.
2: Chop the onion and ginger into small slithers.
3: Chop the tomatoes into small cubes and set aside.
4: Chop the greens into ribbons OR if using baby spinach use as is.
5: Peel the plantains and cut first into discs and then each disc into slithers. Each disc will give you about 3-4 slithers.
6: Gently heat a frying pan with your preferred oil (I use olive or coconut oil) and lightly fry the onions and ginger.
7: Add the plantain to the pan and fry on medium heat until golden.
8: Add the tomatoes to the pan and if using a firm green like a collard or kale, add these now to.
9: Add the sprigs of Thyme to the pan – ripping greenery of woody stems with your nails. Just put the leaves in the pan.
10: Cook the above for about 5 minutes on a medium heat. Gently stirring.
11: Add the ackee to the pan. Gently stir the ackee into the mixture and heat through.
12: Turn the heat right down. Add 1/2 tablespoon of apple cider vinegar. Taste.
13: If not strong enough flavours add another ½ tablespoon of apple cider vinegar.