Savoury Pancakes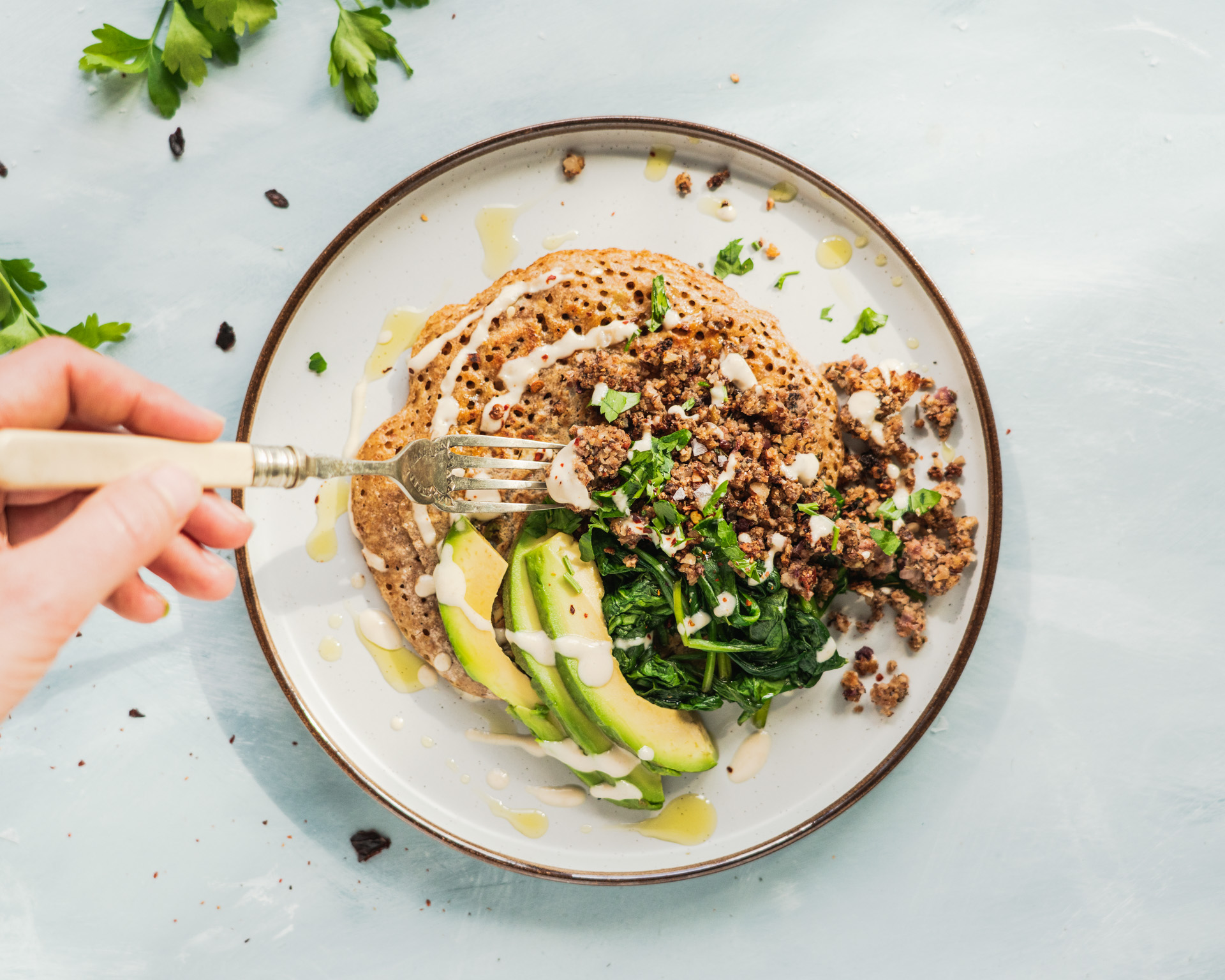 These savoury pancakes are simple to throw together and require only a handful of ingredients. They're great if you have leftover sauces that need using up. They're made with both wholemeal and split chickpea flour so they're filling, contain more protein than pancakes made with "regular" flour as well as plenty of other vitamins and minerals.
Ingredients
Ingredients
2 tablespoons ground flaxmeal
5 tablespoons water
2 cups oat milk (or plant milk of choice)
2 teaspoons vinegar
1 cup wholemeal flour or spelt flour
1 cup chickpea flour/besan
1 teaspoon sea salt
2 tablespoons nutritional yeast
1 teaspoon garlic powder
1/2 teaspoon cumin (optional)
1/2 teaspoon smoked paprika (optional)
1.5 teaspoons baking powder
2 tablespoons olive oil
2-3 spring onions, very finely chopped (optional but add great flavour)
A little oil for frying
Method
Begin by making your flax eggs. Combine flaxmeal and water in a small bowl. Mix well and set aside for at least 5 minutes.
Add the vinegar and milk to a jug. Mix and set aside for at least 5 minutes. Ideally this will "split" the milk and cause it to curdle, however, different types and brands of milk will have varying results. If your milk does not split, don't worry. Your pancakes will still be excellent.
To a large mixing bowl, add the flours, salt, nutritional yeast, garlic powder, cumin, smoked paprika and baking powder and mix well.
Add the flax eggs and olive oil to the jug of vinegar and milk and give it a little mix.
Make a well in the middle of the mixing bowl and slowly pour the milky mixture in, whisking as you go, gradually incorporating more and more flour into the batter that you are forming. Try to do away with any lumps.
Stir in your finely chopped spring onion.
Heat a non-stick frying pan with a little oil over a medium-high heat.
To check your pan is ready, drop a tiny bit of batter into it. If it sizzles and puffs up straight away you're good to go. Patience, my loves.
Carefully spoon a ladleful of batter into the pan. You will need to let it cook for around 2 minutes (perhaps a little longer if you made your pancakes big). By this time, small bubbles should be forming on the top and it should be easy to flip the pancake (using a spatula if you like).
Cook the other side for around 2 minutes as well. There should be a tinge of golden brown on either side.
Serve warm with whatever your heart is calling out for...
Recipe by the wonderful Amy Hiller