Smokey Black Beans On Toast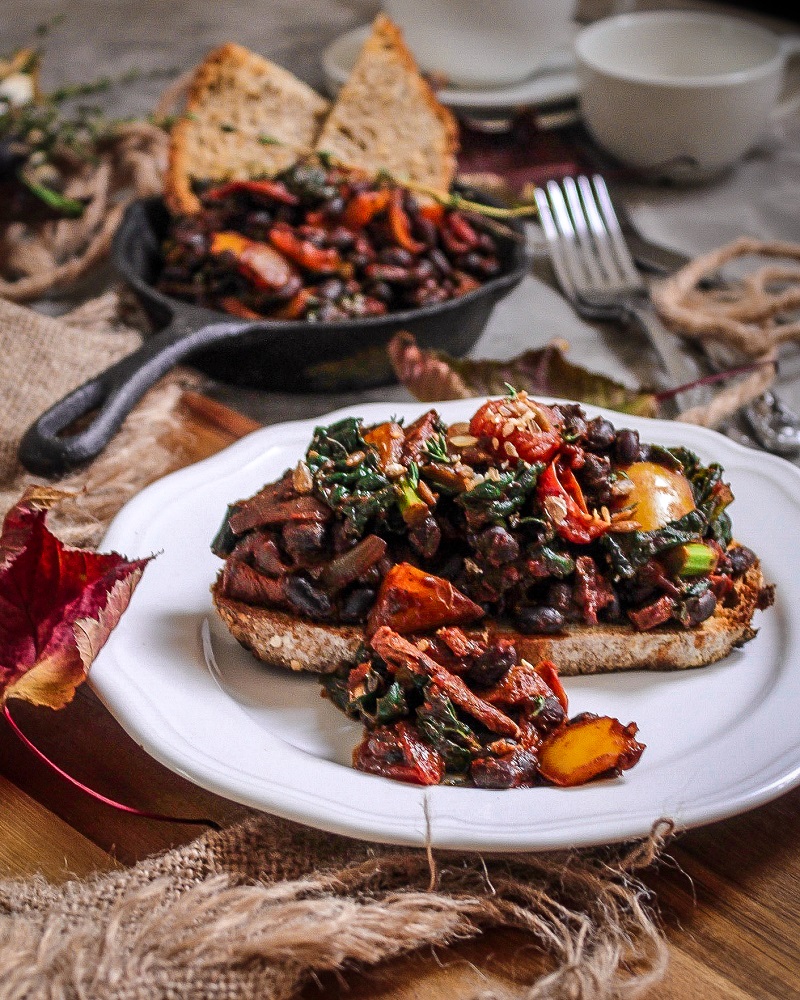 Well posh and nutritious take on beans on toast from the divine food blogger Melissa St Hill of The Bare Scientist.
Ingredients
1 tablespoon olive oil
3/4 cup dried black beans soaked overnight (or use canned)
1 medium white/yellow onion roughly chopped
1 large clove smoked garlic minced (normal garlic is fine if you can't get your hands on smoked garlic)
8 large cherry tomatoes or two medium salad tomatoes
2 tablespoon sweetener (maple syrup works well in this)
1/2 each red and yellow bell pepper
1/4 cup tomato purée
1 tablespoon smoked paprika
1 tablespoon soy sauce
100gram cavolo nero
Salt, black pepper, chilli powder and dried mixed herbs to taste (as a rough guide, I use about 1/4 tsp salt, 1/2 tsp black pepper, 1 tsp chilli powder and 1/4 cup dried mixed herbs)
A few sprigs of fresh thyme
Method
1: If using dried beans, wash and soak overnight then in a pan boil on a medium-high heat for approximately 45mins or until cooked. Keep an eye on the beans and top up with water as and when necessary.
2: Once the beans are soft enough to pierce with a fork, drain and set aside.
3: Heat olive oil in a large frying pan over a medium-high heat.
4: Add the roughly chopped onions, cooking until translucent, then add minced garlic, salt, pepper, dried mixed herbs and black beans.
5: Follow by adding soy sauce and stir in.
6: Add 300mililitres water and leave to simmer on a medium heat for 15 minutes.
7: Add in roughly chopped bell peppers (about a square inch as they are nice left chunky in this dish) and whole cherry tomatoes, followed by tomato purée, sweetener and smoked paprika.
8: Stir thoroughly and season to taste, adding buds of fresh thyme and roughly washed and chopped cavolo nero.
9: Leave the sauce to reduce and develop flavour for a further 15 minutes and cavolo nero to soften.
10: Serve up on freshly toasted bread adding extra fresh thyme for garnish.