Sour Yellow Curry with Mixed Vegetables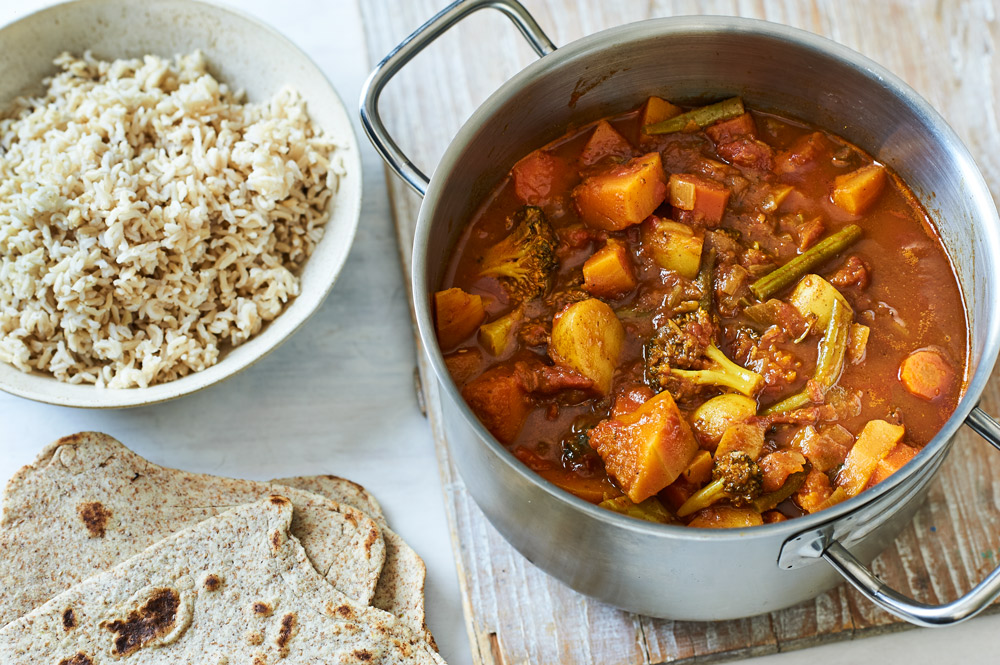 This curry combines sweet, savoury and sour flavours to create a refreshing, warm and zingy main course. Perfect throughout the year!
Ingredients
For the yellow sour curry paste:
2 large dried red chillies, chopped and soaked
1-2 dried red hot chillies or 1-2 fresh hot chillies
¼ teaspoon sea salt
1 tablespoons fresh turmeric, skinned (or 1 teaspoon powder)
2 thai shallots, roughly chopped
1-2 cloves garlic, chopped
For the curry:
500ml vegetable stock
1 quantity sour curry paste
125 grams pumpkin/squash, sliced finely
80 grams pineapple cut into bite size pieces (unsweetened tinned is fine)
80 grams long beans/ mange tout or seasonal alternative, chopped into bite sized pieces
125 grams seasonal greens, chopped
125 grams white cabbage (or other variety), cut into squared chunks
3 teaspoon light soy sauce
½ teaspoon sweetener (maple syrup, brown rice syrup or molasses)
2 tablespoons tamarind juice
1 tablespoon lime or lemon juice
Method
For the yellow sour curry paste:
Put the chillies and salt into the mortar and pound until smooth.
Add the turmeric and pound again
Add the shallots and garlic and pound until the paste is smooth.
For the curry:
Put the stock into a pan or wok and bring to the boil. Add the yellow sour curry paste and mix well. Add the pumpkin and pineapple and cook until the pumpkin is tender (about 2 minutes).
Add in the remaining vegetables and cook for a further 2 minutes.
Add the soy sauce, cane sugar and tamarind and let the soup boil for 20seconds before turning off the heat.
Pour in the lime or lemon juice and adjust the seasoning. This curry should be sour so you may need to add additional tamarind juice.
Serve with steamed brown rice.
Photo credit: Faith Mason
---
---