Spaghetti Jollof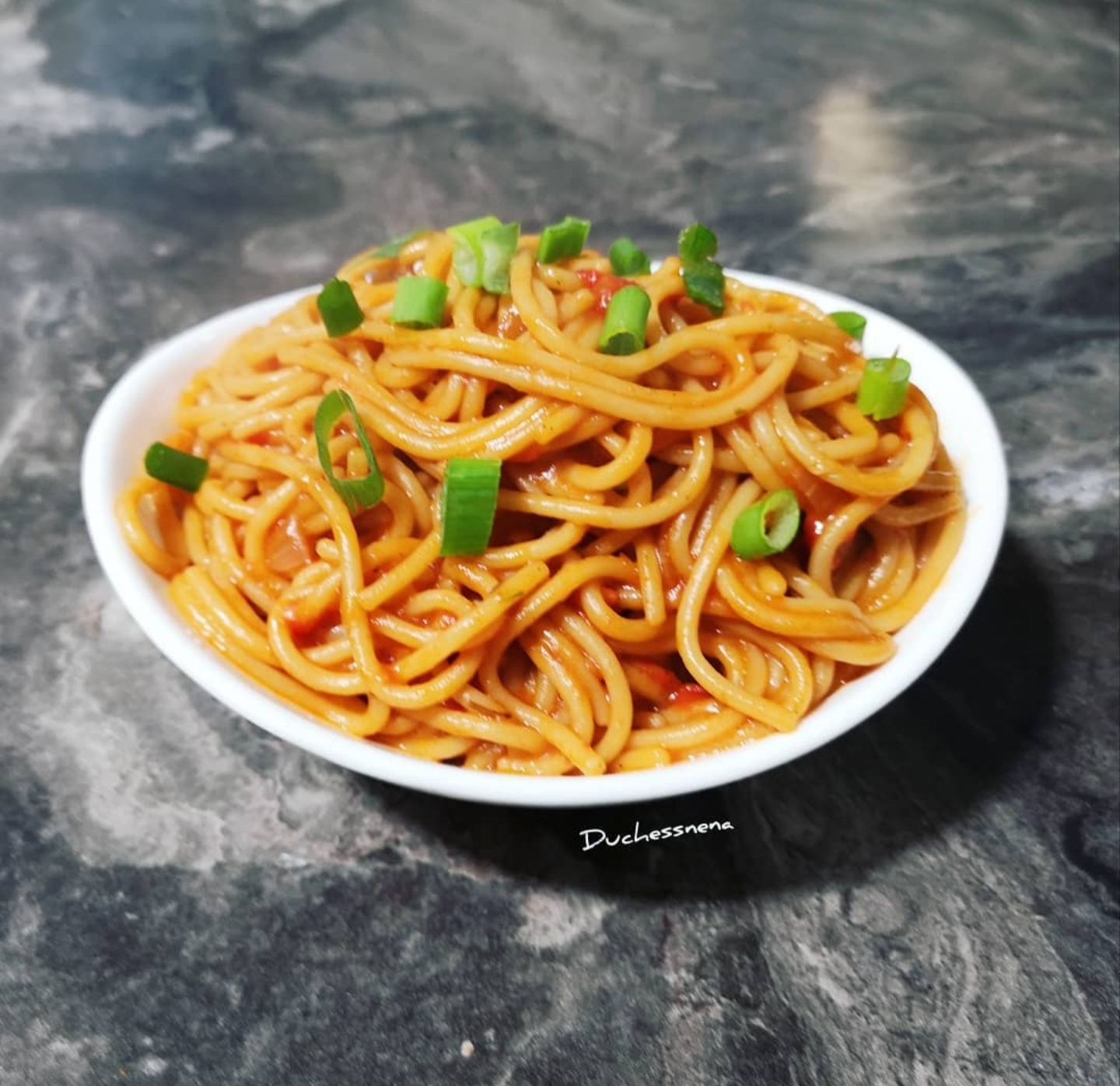 This fabulous recipe is created by Nigerian food blogger, MIH teacher and cookery book author Duchess Nena and is featured in her new book cookery book Igbo Vegan. Jump to end of the recipe for the link to the book - you won't regret it.
Ingredients
• 1 pack spaghetti
• 1 table spoon tomato puree
• 3 Bell peppers (1 green, 1 red & 1 yellow)
• 2 cups Vegetable stock
• 1 large onion
• 1 teaspoon scotch bonnets
• 2 seasoning cubes
• 2 table spoons oil of choice
• ¼teaspoon garlic
• 2 bay leaves
• ¼teaspoon rosemary
• ¼teaspoon curry powder
Method
1. Chop all the bell peppers in to juliennes (thin long cuts) and keep aside
2. Cut half of the onions in to a similar shape and bend the other half of the onions
3. Place a medium pot on heat and add water almost to the brim. Once the water starts to boil add a drop of oil, a pinch of salt and your Spaghetti. Let this cook for 10-12 mins. Take of boil and strain the water in a colander and set aside.
4. Place a wok of deep pan on heat, add 2 tables spoons of oil, add the blended onions and sauté for about 7 minutes, add in the bay leaves, cook for 2minutes.
5. Add the chopped onions and sauté for another 2 minutes.
6. Add the tomato puree and scotch bonnet peppers and sauté for another 5 minutes,
7. Add the rosemary, curry powder, seasoning, salt, garlic and after 4 minutes add the vegetable stock, the pasta and the bell peppers mix well and let it simmer for a few minutes till sauce is reduced, mix well together and take of heat.
For more delicious recipes from Duchess Nena check out her latest book Igbo Vegan available to buy from her West African plant-based food company Uziiza IGBO VEGAN – ULTIMATE GUIDE TO IGBO PLANTBASED – Uziiza