Spiced Apple, Ginger Cake with a Pecan crumb topping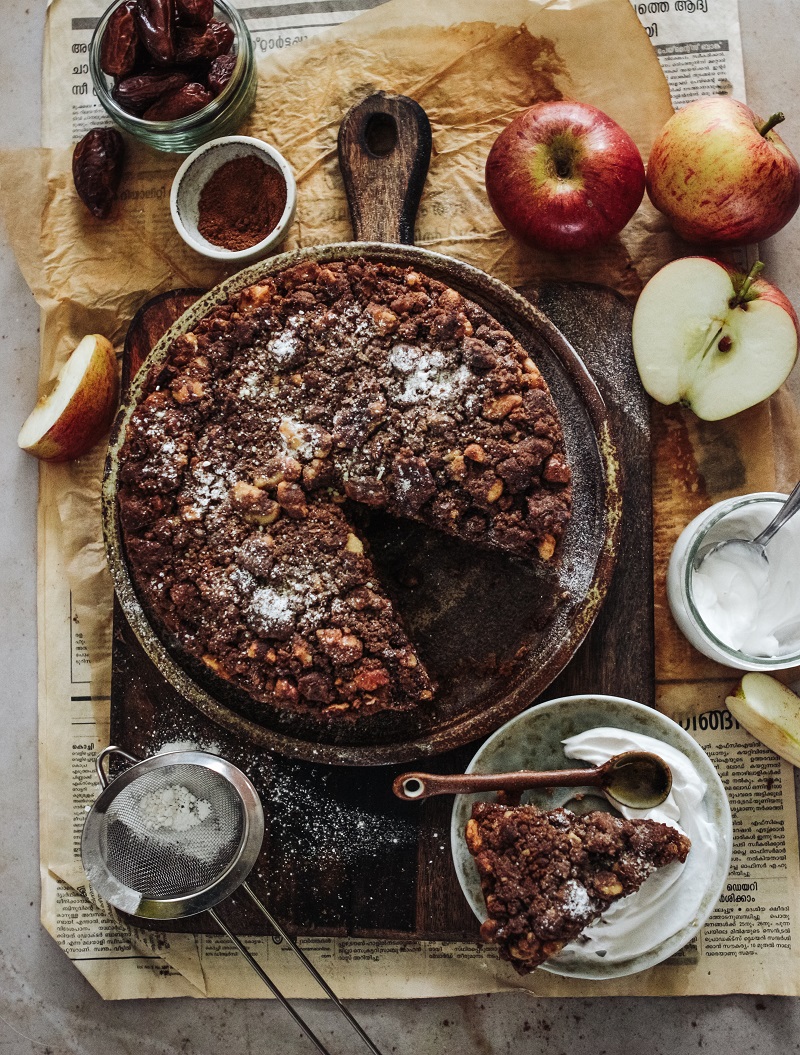 The Queen of apple cakes from our pal Niki Webster over at Rebel Recipes food blog. Our founder Sarah Bentley could not think of a better way to use up all those seasonal apples! This is a SERIOUSLY good recipe and comes out looking like the photo even when made by us mere mortals!
Ingredients
Cake
200g self raising flour
125g ground almonds
2 tablespoons ground flaxseeds
1½ teaspoons baking powder
½ teaspoons baking soda
½ teaspoons sea salt
1 tablespoons apple cider vinegar
250mililitres plantbased milk
1 tablespoons coconut oil
150g medjool dates pitted
3 tablespoons maple syrup
1 tablespoons vanilla essence
2 tablespoons ginger powder
1 teaspoon cinnamon
2 teaspoon mixed spice
2 apples grated
*
Topping
100g coconut sugar
100g pecans toasted and crushed a little
2 teaspoon cinnamon
1 teaspoon mixed spice
1/2 teaspoon sea salt
3 tablespoon vegan butter, melted
5 tablespoon plain flour
Method
1. Pre heat your oven to 180c.
2. Grease a loose bottom pan with coconut oil.
3. To make the crumb topping, combine the sugar, cinnamon, mixed spice and salt in a medium bowl. Whisk in the melted butter. Add the flour and stir in. Spread out mixture on baking paper to dry until ready to use.
To make the cake
4. Add all the ingredients to a food processor or high speed blender and blitz until you get a smooth batter and there are no lumps. Spoon the batter into the cake tin then top with the crumb topping.
5. Now bake for aprox 40 minutes or until a skewer comes out clean.
6. Allow the cake cool for 10-15 minutes until turning out.
This amazing recipe comes from our friend Niki Webster over at stunning food blog Rebel Recipes.
---
---