Spiced Hot Chocolate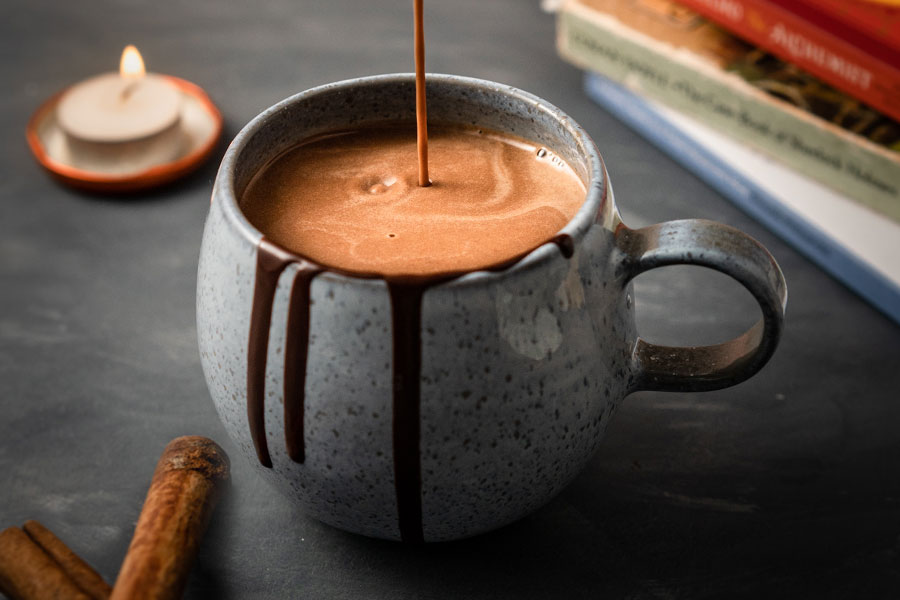 This cosy drink is a lovely twist on regular hot chocolate. It's simple to make and bursting with warming festive spices!
Ingredients
(makes 2 mugs)
2 + 1/2 cups plant milk of choice
1 cinnamon stick (or use 1/2 - 3/4 teaspoon cinnamon powder, although your hot choc will be a little grittier)
1/2 teaspoon vanilla extract or 1/4 teaspoon vanilla powder
Tiny pinch of nutmeg (it has a very strong taste)
1/2 teaspoon cardamom powder (or a couple of crushed cardamom pods)
2 tablespoons cacao or cocoa
1 to 1 + 1/2 tablespoons coconut sugar or sweetener of choice, such as date syrup or maple syrup
Tiny pinch of salt (optional)
1/2 teaspoon tapioca flour (optional - for a thicker hot chocolate)
Method
Combine milk and all of the spices in a pan and warm over a medium heat until simmering.

To a small bowl, add cacao, along with tapioca flour if using and add a splash of milk or water - enough to form a paste. Mix well until smooth and then add this to the milk.

Whisk everything together really well and simmer for around 5 minutes.

Add your coconut sugar or other sweetener and salt and then taste. Add more of either if you fancy.

Melted chocolate drizzle or whipped coconut cream make great toppings!
Recipe and photography created by Amy Hiller