Spiced Roast Squash Tacos with Slaw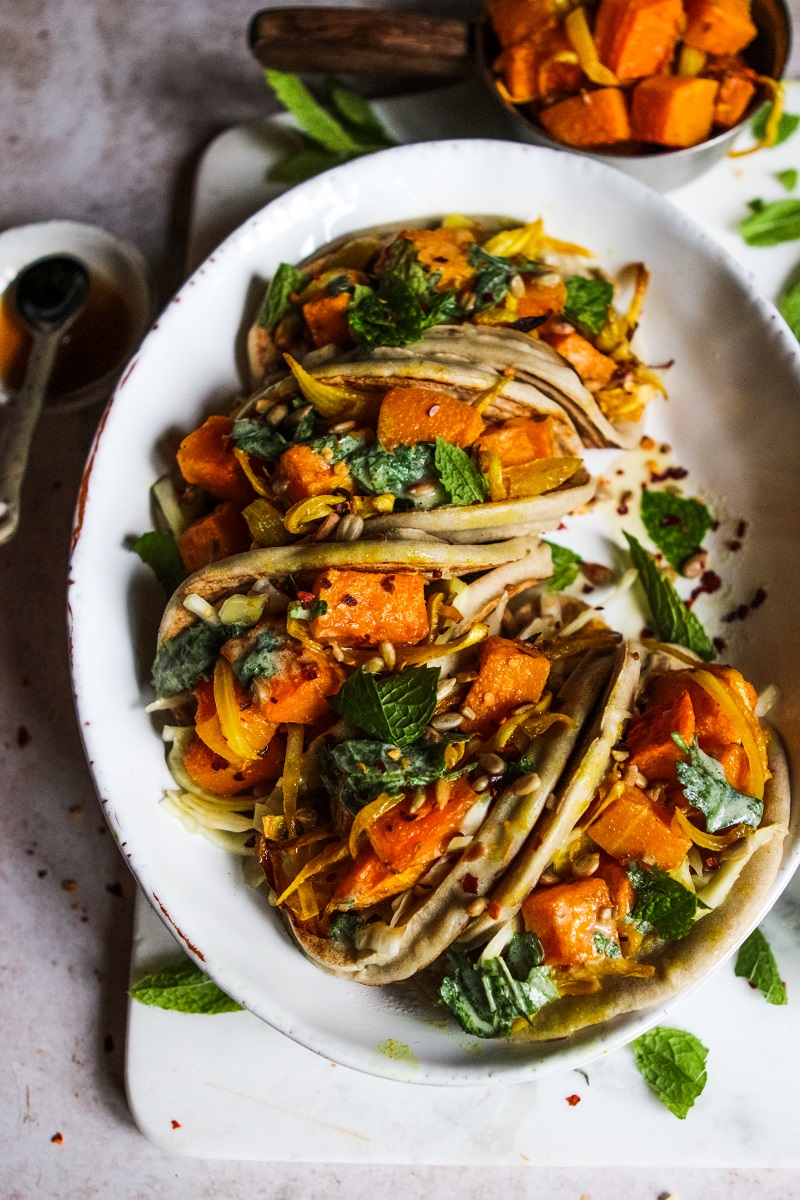 Butternut squash reimagined! This dish is a perfect combo of sweet roasted root veg and crunchy slaw all wrapped up in a pancake folded taco style. What more could you want from a meal? Thankyou Niki Webster from Rebel Recipes for this gorgeous creation.
Ingredients
For the squash
1 medium Pumpkin or squash peeled and cut into cubes
3 tablespoons olive oil
1 onion cut into long slices
1/2 teaspoon cumin seeds
1 teaspoon ground coriander
1 teaspoon turmeric
Juice 1/2 lemon
Pinch sea salt flakes
1/4 teaspoon chilli flakes
For the slaw
1/4 White cabbage sliced finely
3 spring onions sliced
4 tablespoon sunflower seeds toasted
Dressing
2 tablespoon extra virgin olive oil
Juice 1/2 lemon
1 tablespoon whole grain mustard
1 teaspoon maple syrup
Big pinch sea salt
For the tacos
1 cup 1/4 cup plus buckwheat flour
1 cup - 250mililitres water
Splash rapeseed oil
1/2 tsp Organic apple cider
Pinch sea salt
Toppings
Mint
Coriander
Method
To make the spiced squash
1. Pre heat your oven to 180c.
2. Bake for 45-1hr
3. In a large pan add the oil and heat to a low -medium heat, add in the onion. Fry for aprox 10-12 minutes until soft and browning.
4. Now add the spices and stir to combine.
5. When the pumpkin has roasted, add it to the pan with the onions.
6. Stir to combine then squeeze in the lemon juice, salt & chili flakes.
7. Set aside.
To make the slaw
8. Finely slice the cabbage into long strips.
9. Cut the sping onion diagonally, Add them all to a large bowl.
10. Now toast the seeds by adding them to a dry pan. Toast on a medium heat until lightly toasted. Add to the veg.
11. To make the dressing add all the ingredients to a jar, replace the lid and shake to combine.
12. Dress the veg with the dressing.
To make the tacos (or folded pancakes)
13. Add the flour and salt to a large bowl. Stir to combine. Add in the water, oil and vinegar. Mix to a smooth batter. Set aside for 10 minutes.
14. Add a little oil to the base of a non-stick small frying pan. Add 1/4 cup of the batter to the pan and swirl around the bottom so you get an even pancake.
15. Cook on a medium heat for approximately 2 minutes until there are bubbles in the pancake and you can lift over to flip easily.
16. Flip and cook on the other side for 30 seconds to a minute
17. Remove from the pan and place on and cover with a clean cloth to keep warm.
18. Repeat the process with the rest of the batter.
To serve
19. Load the pancakes with the spiced squash and slaw.
This absolutely delicious recipe was created by our friend Niki Webster. Check out more of her recipes on her epic Rebel Recipes food blog.