Spiced Squash and Red Onion Salad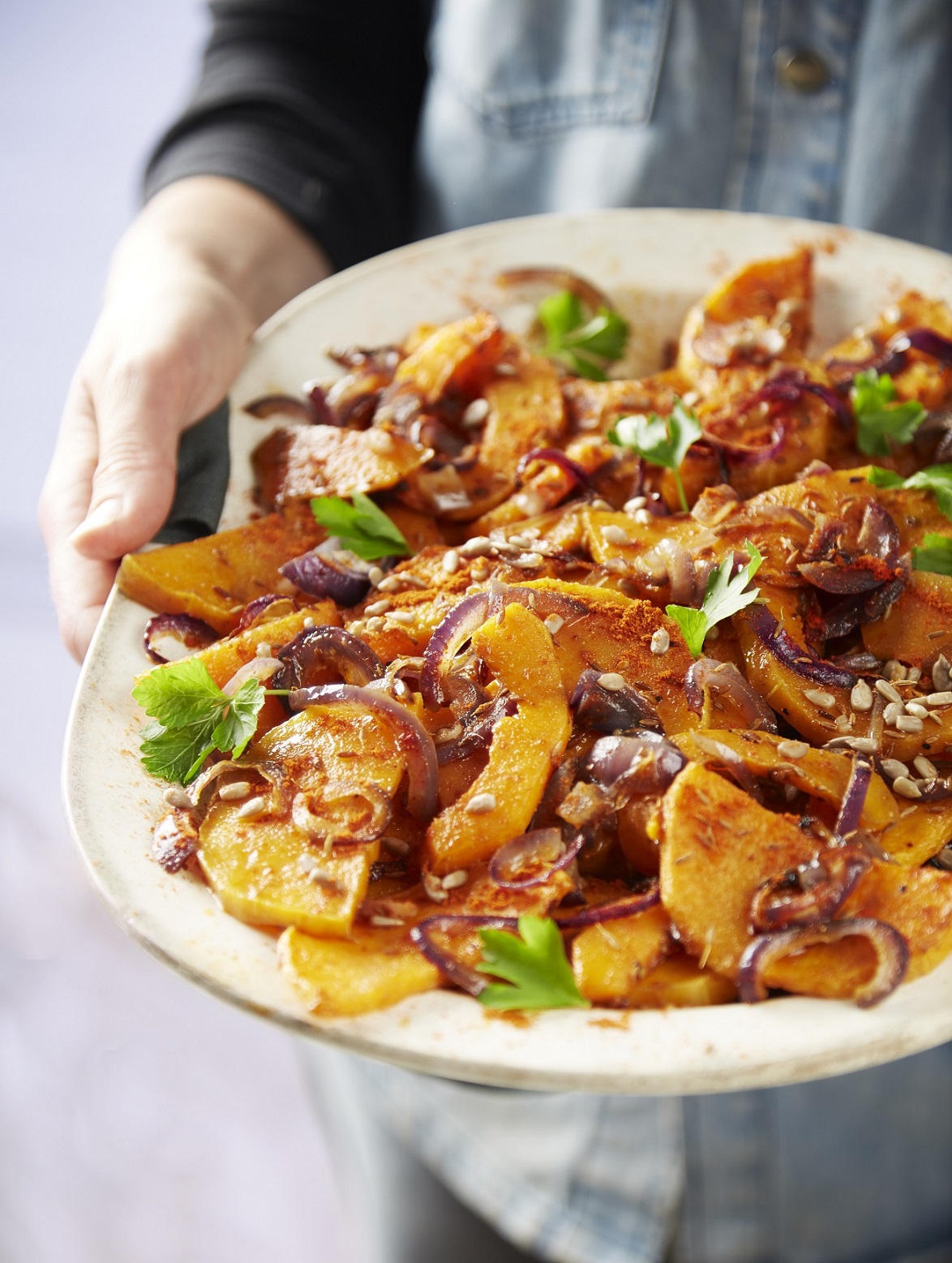 This slow cooked salad brings out the squash and red onion's natural sweetness. The recipe is by MIH chef Mark Breen from our Thrifty Feasts 2 recipe book.
Ingredients
1 large butternut squash
2 red onions
3 tablespoons olive oil
1 teaspoon cumin seeds
1 teaspoon coriander powder
1 teaspoon paprika
4 tablespoons of sunflower seeds
1 tablespoon parsley
Method
1. Heat the oven to 200°C/ gas mark 6.
2. Scoop out seeds from squash and cut into pieces (approx 3cm long).
3. Put the squash in a large bowl, add three tablespoons of olive oil, and some black pepper, the cumin, coriander and paprika and toss well.
4. Spread, skin down, on a baking sheet and roast for 20 minutes until the squash has taken on a little colour and started to cook.
5. Slice the onions then mix them with the squash and cook for another 20 minutes. Remove from the oven and leave to cool.
6. Roughly chop the parsley.
7. To serve, spread the vegetables on a platter and scatter the seeds and parsley on top.
Variations: for a dressing, mix 2 tablespoons of tahini with 2 tablespoons of olive oil, a squeeze of lemon and a splash of water and drizzle over the salad. You could bulk this out even more with some pearl barley, brown rice or cous cous.
Photography by Chelsea Bloxsome for Made In Hackney www.chelseabloxsome.com
Food Styling by Jack Sargeson for Made In Hackney @jackspacesargeson
Assisting by Natasha Middleton for Made In Hackney @nattamidd