Summer Berry Tarts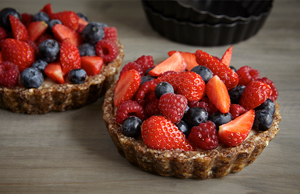 Super easy to make delicious - and healthy- berry tart! What is there not to love.
Ingredients
Crust
1 cup of walnuts
1 cup of pitted dates
Filling
1 tin of coconut milk, refrigerated overnight
1 teaspoon of vanilla extract
Topping
Fresh organic berries
Method
1: Whizz the nuts and dates in the food processor until they form a crumbly dough.
2: Press the dough into four individual tart cases and place in the fridge.
3: To make the coconut cream scoop the solidified coconut milk into a bowl and whip until it forms stiff peaks.
4: Fold in the vanilla.
5: Place the whipped cream into the tart cases and place the berries on top.
Photography: Patricia Niven for Made In Hackney
---
---