Sweet Potato Curry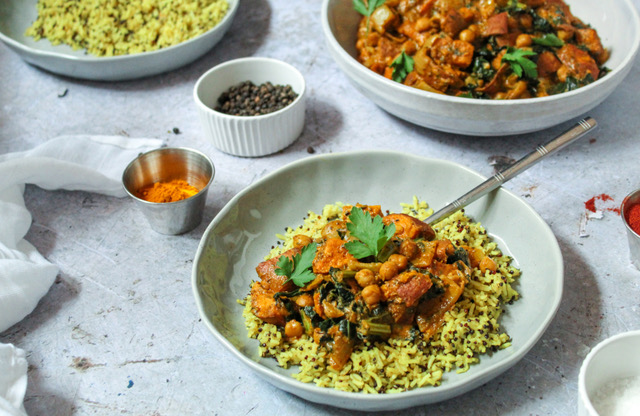 This rich aromatic curry recipe was created by nutritionist, scientist and chef Melissa Saint Hill (find her on instagram @the_bare_scientist). It's bursting with flavour, goodness and plenty of colour!
Ingredients
2 medium sweet potatoes (or one large)
1 large onion
2 teaspoons chilli powder
2 teaspoons cumin
2 teaspoons turmeric,
1/3 cup ground coriander
Handful fresh parsley/coriander
2 medium tomatoes
400g can of chickpeas drained
400ml can coconut milk
150g of kale or other tough leafy green (just over half large bag in the supermarket)
2 large cloves of garlic
2 tablespoons of olive oil
Mixed herbs to taste
Salt and pepper to taste*
Method
Finely chop washed and scrubbed sweet potatoes. Lay on a lined baking tray and drizzle with 1 tablespoon olive oil and sprinkle mixed herbs and a pinch of salt. Bake in the oven on 190∞C (Gas Mark 5) until a fork can comfortably pierce the potatoes.
Meanwhile, chop onion into medium chunks and sweat off in the other tbsp olive oil under a medium-to-high heat until softened.
When onion becomes translucent (after about 2-3 mins) add in chopped garlic and mix.
Add spices and mix in.
Add tomatoes and chickpeas, followed by the finely shredded kale. Leave to simmer and soften.
Follow by adding in the coconut milk and lower the fire so that the coconut milk is not boiling, but instead just simmering. Add in further spices as you taste to satisfy your palette. Further simmer for another ten minutes.
Add in the sweet potato and mix everything in well together. Simmer for another 5 minutes on a very low fire, mixing occasionally.
You can either stir in your fresh herbs just before you turn off the heat, or use them to garnish once plated up.
This can be served with some rice or another grain. This photograph contains steamed white rice and black quinoa with turmeric.
Melissa tells us she personally goes heavier on certain spices and the quantities in the recipe are guidelines to inspire your own creativity, so adjust quantities up or down as necessary.
Recipe and Photo: Melissa Saint Hill