Tandoori Carrots On Butterbean Tomato Dip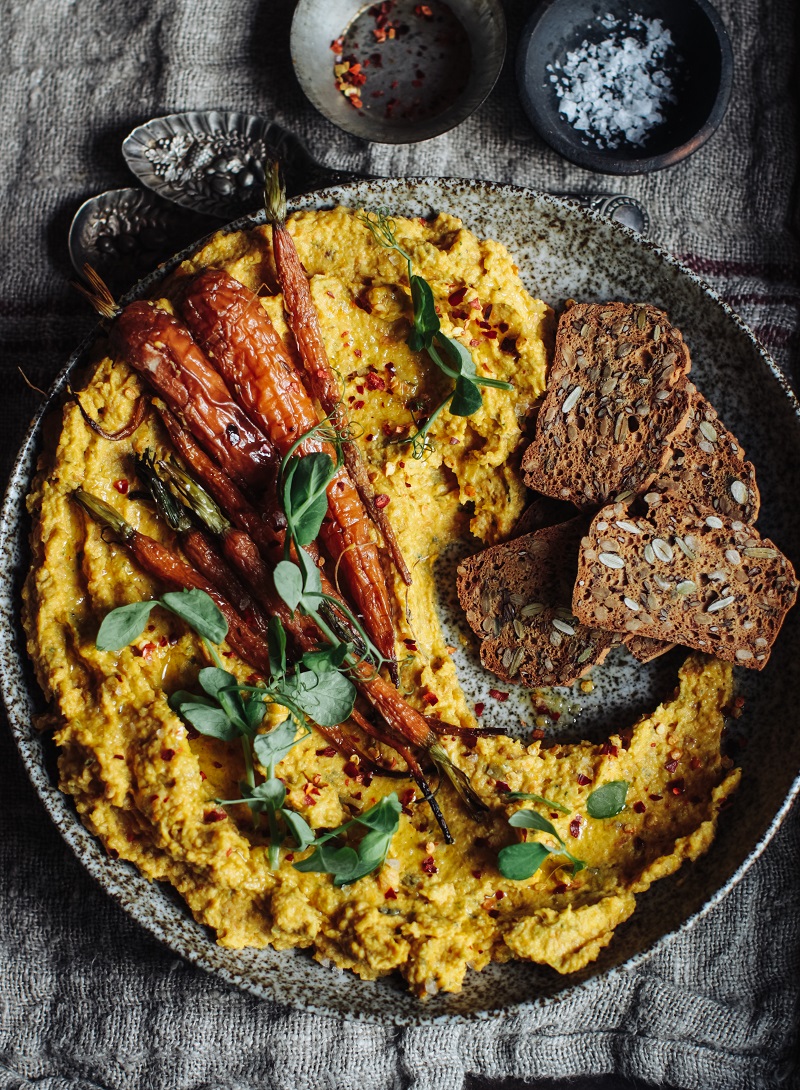 Wow - the humble carrot is given a tandoori make over to sensational effect by master chef Niki Webster over at Rebel Recipes.
Ingredients
Tandoori dressing
1 teaspoon ground coriander
1 teaspoon cumin seeds
1 teaspoon garam masala
1 teaspoon salt flakes
1/2 teaspoon ground ginger
1 teaspoon ground turmeric
1/2 teaspoon garlic granules
½ teaspoon ground cinnamon
Pinch of chilli flakes
2 tablespoons olive oil
Roasted Carrots
600g carrots trimmed
For the Butterbean hummus
1 can butter beans drained
1 clove garlic - optional
1 tablespoon olive oil
1/2 sea salt
1 tablespoon tahini
5 cherry tomatoes
To serve
Coconut yogurt
Olive oil
Chilli flakes
Leaves
Sea salt
Method
To roast the carrots
1. Add all the dressing ingredients to a large tub with a lid.
2. Now add the carrots and replace the lid.
3. Shake to coat the carrots. Ideally leave for at least 30 minutes to marinade a little or if you are pushed for time simply add the carrots to a baking tray and roast for 50 minutes -1 hr 10 minutes until the carrots are soft inside and a little charred on the outside.
4. Turn occasionally.
To make the dip
5. Add the butter beans into the your blender with the garlic, lemon juice, tahini and olive oil.
6. Blitz until smooth and creamy (aprox 2 minutes), add a little water to loosen if needed.
To serve
7. Top the butter bean dip with the tandori carrots.
8. You can then add dollops of coconut yogurt, chilli flakes, sea salt, leaves and a drizzle of extra virgin olive oil if you like. Great with fresh bread.
This delicious recipe was created by Niki Webster from the awesome food blog Rebel Recipes.