Thai Pumpkin Soup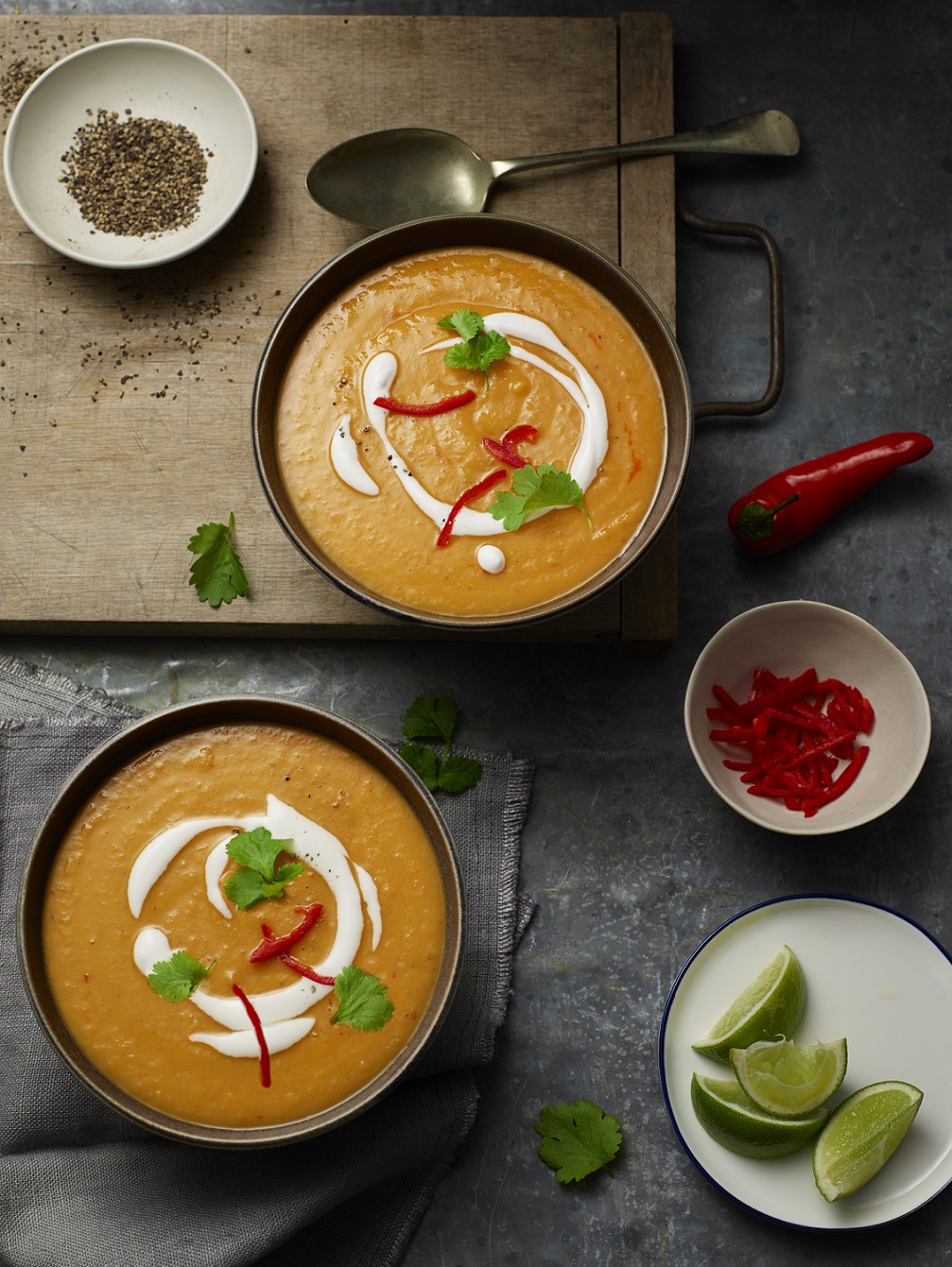 This warming soup is a great way to use up leftover thai curry paste. The recipe is by MIH chef Mark Breen from our Thrifty Feasts 2 recipe book.
Ingredients
1 butternut squash, or small to medium pumpkin, peeled, deseeded and chopped
1 onion, sliced
200ml coconut milk
500ml vegetable stock
3-4 tablespoons Thai red curry paste (vegan)
1 tablespoons grated ginger
2 tablespoons extra virgin olive oil
lime juice, for seasoning
1 red chilli to serve (optional)
A pinch of black pepper
Method
1. Heat oven to 200°C/ gas mark 6.
2. Toss the pumpkin or squash in a roasting tin with 1 tablespoon olive oil, then roast for 30 minutes until golden and tender.
3. Put the remaining oil in a saucepan with the onion and ginger.
4. Cook on a medium heat for 8-10 minutes until softened.
5. Stir in the curry paste for 1 min, followed by the roasted pumpkin and all but 3 tablespoons of the coconut milk and stock.
6. Bring to a simmer and cook for 5 minutes. Cool then blitz with a stick blender until smooth.
7. Return to the pan to heat through, seasoning with pepper and optional lime juice.
8. Serve drizzled with the remaining coconut milk and scattered with sliced chilli.
Photography by Chelsea Bloxsome for Made In Hackney www.chelseabloxsome.com
Food Styling by Jack Sargeson for Made In Hackney @jackspacesargeson
Assisting by Natasha Middleton for Made In Hackney @nattamidd