Tomato and Bread Sunshine Salad (Panzanella)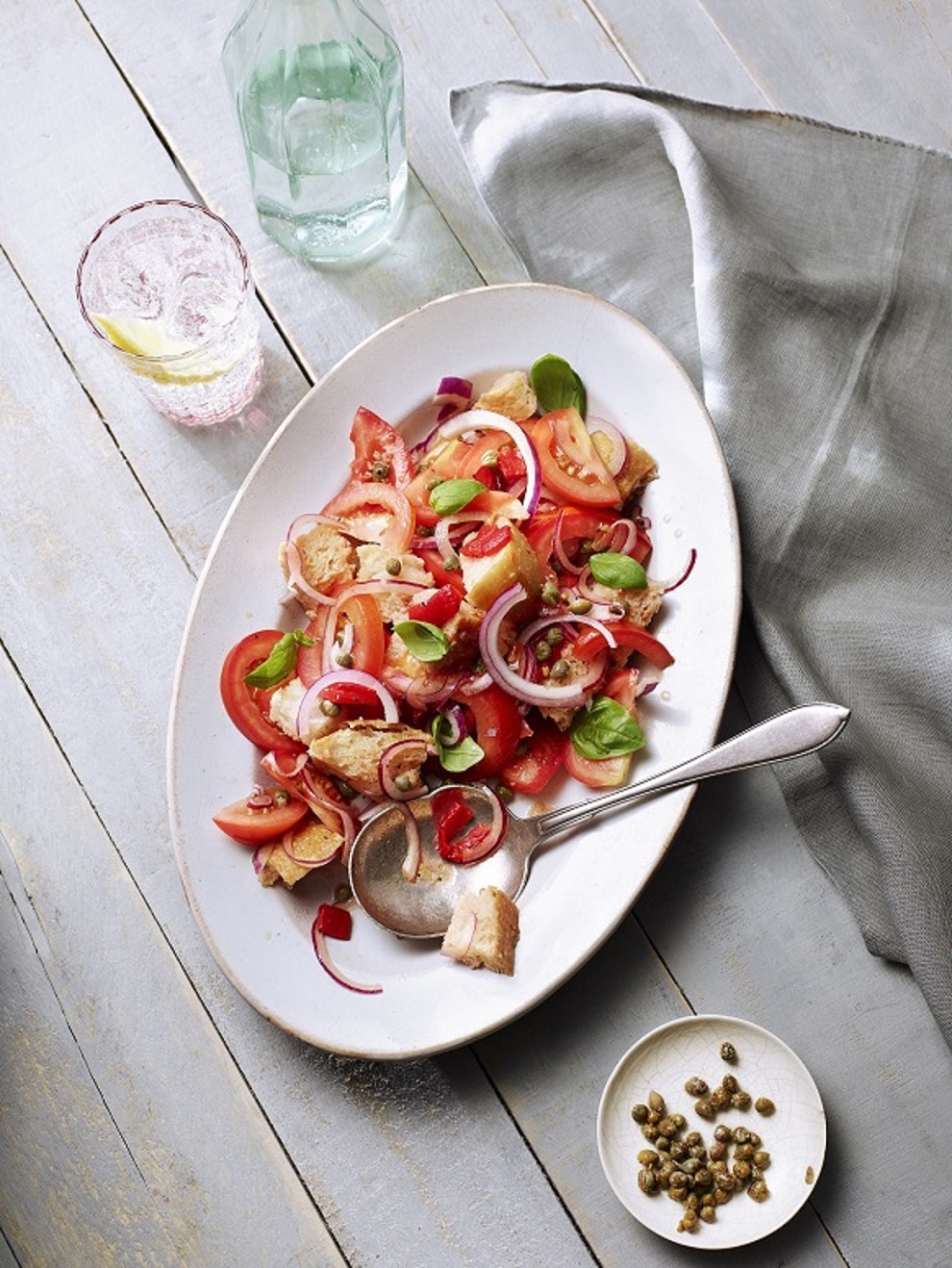 Known to Italians as Panzanella, this classic dish is a great way of using up stale bread. Recipe by MIH chef Mark Breen from our Thrifty Feasts 2 recipe book. When tomatoes go out of season, you can subsitute with any type of roasted squash and swap the fresh basil for fresh or dried oregano.
Ingredients
300g ripe mixed tomatoes
100g stale bread
1 small red onion
1 red pepper
2 tablespoons capers
A bunch of fresh basil
Olive oil
2 tablespoons of red wine vinegar (or pomegranate molasses)
Freshly ground black pepper
Method
1. Tear the stale bread into rough pieces and place on a tray. Leave aside in a warm place for around 30 minutes – this will help dry it out.
2. Chop the tomatoes, red onion and red pepper into small pieces.
3. Place the tomatoes in a bowl. Rinse the capers, squeezing out any excess liquid and add to the bowl, along with the onion, peppers and bread.
4. Toss the mixture together with your hands, then stir in 2 tablespoons of vinegar (if using) and about 3 times as much extra virgin olive oil. Taste and add a little more pepper, vinegar or oil, if needed.
5. Tear in the basil leaves, stir together and serve.
To serve: Cous cous (optional, if hungry)
Photography by Chelsea Bloxsome for Made In Hackney www.chelseabloxsome.com
Food Styling by Jack Sargeson for Made In Hackney @jackspacesargeson
Assisting by Natasha Middleton for Made In Hackney @nattamidd