Traffic Light Dips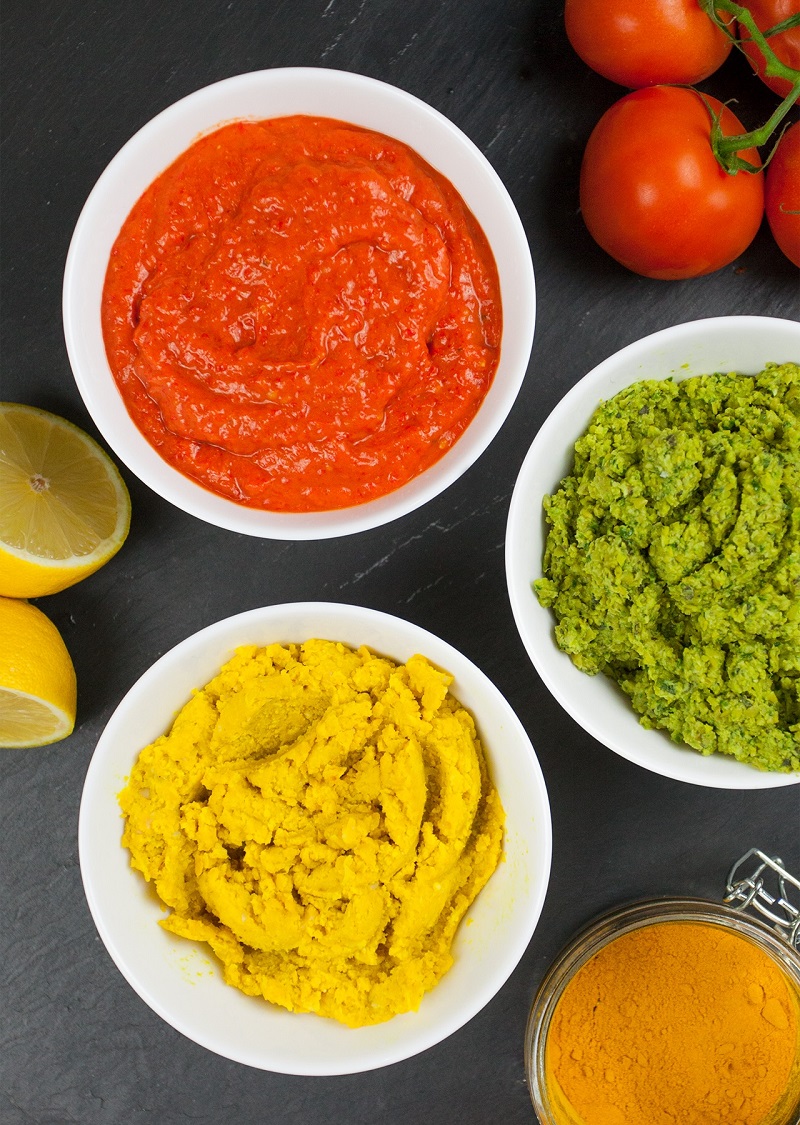 Stop, Look, Dip! This fantastic party piece was created by MIH founder Sarah in collaboration with our friends Ben & Roxy at We Are So Vegan! Visit their Facebook page to watch the vlog of it being made.
Ingredients
Pea & Mint Dip
250g frozen peas
Handful baby spinach spinach (optional)
2 tablespoons olive oil (plus extra for garnish)
Juice and zest of a lemon A pinch of sea salt (optional)
2 tablespoons chopped mint leaves, plus extra for garnish
Turmeric Hummus
1 x (425 g) can chickpeas drained
1 lemon, juiced (3 Tbsp or 45 ml)
2 tablespoons (45 g) tahini
1 cloves garlic crushed
1 teaspoon fresh grated ginger
1/4 teaspoon ground turmeric
1/4 teaspoon sea salt
1-2 tablespoon (15-30 ml) olive oil (or sub water)
Tomato Cream Cheese
12 cherry tomatoes
4 sweet peppers
100g vegan cream cheese ideally coconut base
1 tablespoon tomato paste
½ tablespoon apple cider vinegar
Black pepper or salt to taste
Method
Pea & Mint Dip
1. Put the peas in a large bowl and pour over boiled water, leaving to stand for 5-10 minutes.
2. Drain then transfer to a food processer adding the lemon juice and zest and olive oil, pulse until you get a chunky consistency.
3. Add the mint and a pinch of sea salt if needed and pulse lightly.
4. Serve in a bowl drizzled with a little extra olive oil and garnished with fresh mint leaves.
Tip: If making for kids you can smuggle some spinach and other greens into this dip.
Turmeric Hummus
1. Add everything to blender
2. To create a creamier texture, add a bit of oil and/or (if avoiding oil) water.
3. Taste and adjust flavour
Tomato Cream Cheese
1: Cut pepper into strips and decore.
2: Roast all of it in the oven with the whole cherry tomatoes.
3: Blend roasted veggie and rest of ingredients together.
Photo by We Are So Vegan. To watch a video of this recipe being made visit: https://www.facebook.com/wearesovegan/