Tropical No Bake Bars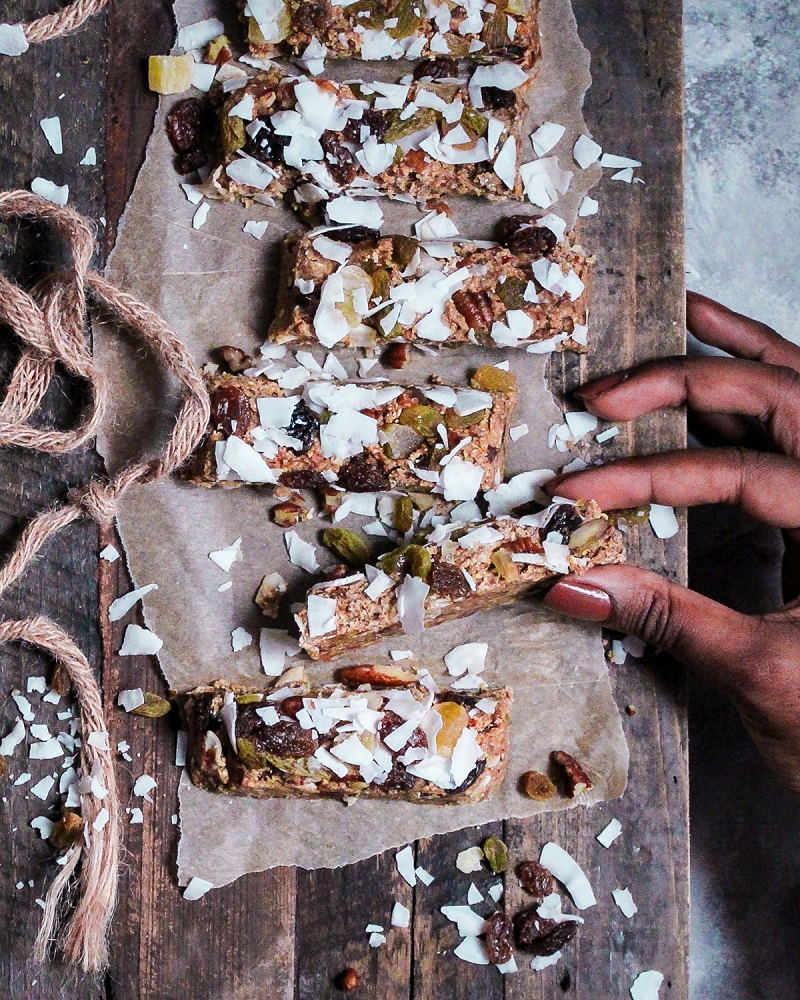 Nutritious sweet treat with lots of fibre and deliciousness from our vegan baking teacher Melissa St Hill.
Ingredients
To fit a 20x10cm loaf tin
130gram pitted dates soaked in hot water
1/4 teaspoon coconut oil
150gram total of a mix dried pineapple, raisins, coconut shavings, pecan nuts
100gram oats blended to flour
2 teaspoon ground ginger
Pinch of salt flakes
Method
1: Lightly grease and line loaf tin with parchment paper.
2: Once the dates have softened after soaking in boiling hot water for about 20 minutes, blend or mash them with the back of a fork until a smooth paste is formed.
3: Fill the bottom of the lined loaf tin with some of the tropical mix (not all, just enough to cover the bottom of the tin).
4: Add all ingredients to a mixing bowl and mix thoroughly until everything is coated.
5: Transfer to the loaf tin and using either the excess parchment or cling film, cover the mix and firmly press the mixture into the tin until it is packed in tightly (I tend to use the back of a spoon or a measuring cup to pack the mixture in tightly snd just pressing down and "drawing circles" onto the lined loaf to pack it in tightly.
6: Leave to refrigerate for a couple of hours until the block is firm.
7: Remove and turn right-side-up so the tropical mix is facing upwards and cut into bars.
8: This can be stored in an air-tight container and keep all week in the refrigerator.
Check out Melissa's St Hill amazing food blog The Bare Scientist.
---
---