Turmeric Tofu Scramble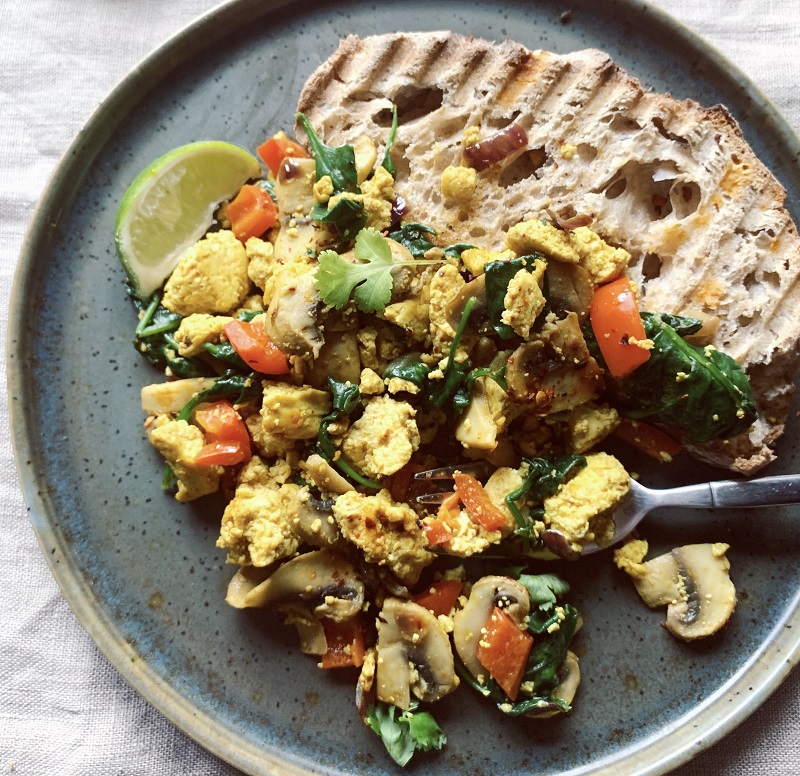 A nutritious, protein packed and tasty brunch dish.
Ingredients
Olive oil
1 red onion
2 cloves of garlic
6 cup mushrooms, sliced thinly
1 red pepper, chopped into small chunks
1 pack plain tofu (280 grams)
50 grams of spinach
2 tablespoons turmeric
1 teaspoon smoked paprika
Dried Crushed Chillies
1 lime
Salt & Pepper
Handful of coriander
Method
1: Drizzle a non-stick frying pan with olive oil over a medium heat.
2: Dice the onion and crush the garlic, and fry for 3 minutes, until the onions begin to brown and soften.
3: Add the sliced mushrooms and red pepper and fry for a further 4 minutes until beginning to soften. Remove from the heat and set aside.
4: Add a drizzle of oil to the same pan, and crumble in the drained tofu. After 3 minutes, once the tofu is beginning to soften, add the spices and juice of half the lime, mixing well.
5: Add the vegetables back to the tofu mixture, along with the spinach, and stir on a medium heat for 5 minutes.
6: Serve with a wedge of lime, a sprinkle of coriander and a drizzle of siracha hot sauce on warm bread. Season to taste.
Perfect for breakfast as tofu is a "complete" plant-based protein – this scramble packs in 25g per portion!
Recipe and photo by former awesome Made In Hackney project apprentice, volunteer and recipe developer Gina Pegram.