Tuscan Chestnut Cake - Castagnaccio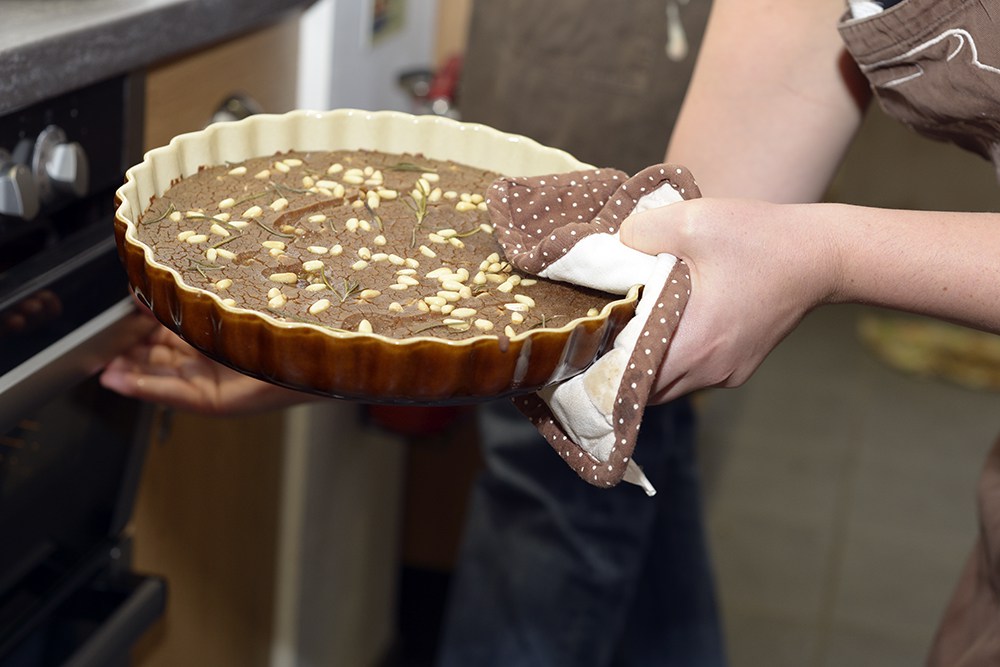 A traditional recipe from rural Tuscany, as well as being vegan, this cake is also gluten-free and sugar free – the way it was originally intended with no adaptations. Chestnut flour is naturally sweet, and this is enhanced by the use of sultanas.
Ingredients
Serves 12
250 grammes chestnut flour
350 millilitres filtered water
pinch of salt
2 Tablespoons extra virgin olive oil + extra to grease the tin.
40 grammes sultanas (or try 40 grammes of blueberries for lower fructose content)
25 grammes pine nuts
Fresh rosemary
Method
1. Pre-heat the oven to 180 degrees Celcius.
2. Sieve the flour into a large mixing bowl to get rid of any lumps, then pour in the cold water bit by bit stirring till the mixture resembles a pourable batter. Stir in 2 tablespoons of olive oil. Set aside for 30 mins.
3. Meanwhile soak the sultanas in warm water for around 20 minutes, this brings out the sweetness, and allows them to plump up.
4. After 30 mins, add half of the pine nuts to the flour-batter mixture, along with the drained sultanas.
5. Grease a large shallow baking tin with half a tablespoon of olive oil.
6. Pour in the batter (it should be around 1cm deep), and sprinkle with the remaining nuts, and all of the fresh rosemary. Drizzle a further tablespoon of olive oil over the cake.
7. Bake in the upper part of the oven for 40 minutes. During cooking the top of the cake will crack. This is how it is meant to look, don't worry!
This recipe was created by Made In Hackney cookery teacher Ceri Jones of www.naturalkitchenadventures.com
Photo Credit: Made In Hackney
---
---