Ultimate Bangers & Mash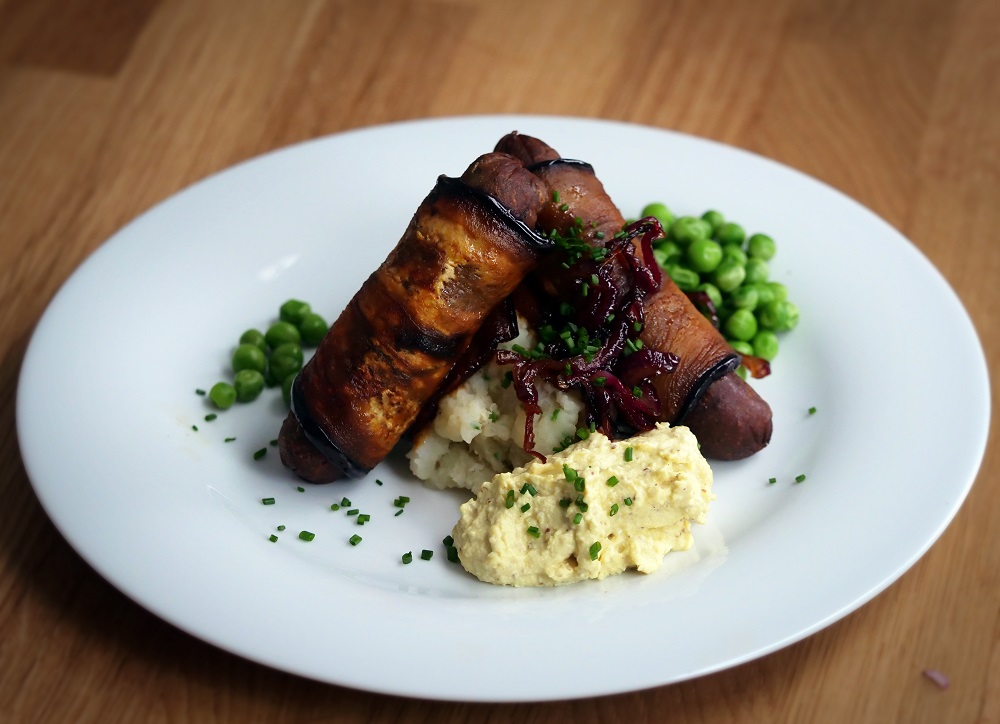 We teamed up with the lovely Bosh! fellas to create this epic bangers and mash recipe with a 'no-pigs in blankets' aubergine facon! Banging. Literally!
Ingredients
8 vegan sausages (2 per person)
For the aubergine bacon
1 x large aubergine cut into ½ cm thick even strips
1/3 cup of soya sauce
¼ cup apple cider vinegar
2 tablespoons of olive oil + olive oil for frying
2 tablespoons of maple syrup
2 teaspoons of smoked paprika
Cashew Mustard Mayo
1 cup of raw cashew nuts (ideally soaked overnight or at least 4 hours)
Juice of 1/2 large lemon
5 tablespoons oat milk
1/2 tablespoon of French mustard
1/2 tablespoon of Djon Mustard
1/4 teaspoon of Turmeric
Pinch of seas salt
Ultimate Mash
500 grammes of Maris Piper Potatoes
4 tablespoons of Oatly oat milk
2 teaspoons of Nutritional Yeast
Finely chopped chives
Pinch of black pepper
Pinch of sea salt
Pomegranate Molasses & Red Wine Vinegar Onions
Ingredients
1 Large red onion
1 tablespoon of Pomegranate Molasses
2 tablespoon of red wine vinegar
Olive oil for frying
Method
Aubergine Facon
1: Add all ingredients into a bowl (except aubergine) and stir.
2: Place the aubergine strips into the bowl of liquid and leave to marinade for 30mins.
3: Lightly cover a frying pan with olive oil on a medium heat.
4: Take aubergine strips out and save marinade.
5: Cook the aubergine in batches in the frying pan. Cook until aubergine is brown at edges.
6: Add marinade and simmer until marinade disappears.
7: Repeat until all aubergine strips are done.
8: Cook the sausages in the oven as per instructions.
9: Take them out the oven 1-2 minutes early and leave to cool slightly until you can handle them.
10: Whilst still warm wrap each sausage in an aubergine strip – cutting to size as needed.
11: Put back in the oven on a low heat covered in foil while you do the rest.
Cashew Mustard Mayo
1: Blend everything together adding more oat milk as required.
Ultimate Mash
1: Place potatoes in a large saucepan of water and using a medium to high heat bring to the boil.
2: Add a pinch of sea salt.
3: Cook for 20-25 mins until very tender.
(While the potatoes are cooking you can make the Mayo and the Onions)
4: Chop your chives into thin slithers.
5: Turn off the heat and empty water from the potato pan.
6: Tip the potatoes into a large pan. Add the oat milk, nutritional yeast, pepper, salt and chives.
7: Stir with a wooden spoon or mash using a potato masher.
8: Sprinkle on top with chives
Pomegranate Molasses & Red Wine Vinegar Onions
1: Coat frying pan thinly with olive oil on a medium heat.
2: Add sliced onion to the pan and fry for 1 minute.
3: Add the red wine vinegar and pomegranate molasses.
4: Continue frying until the onions are slightly brown, a little crispy and have soaked up the liquids.
Add garden peas and gravy if you wish! If you'd like to watch the video of this recipe visit Bosh!