Posh Mushroom & Shallot Gravy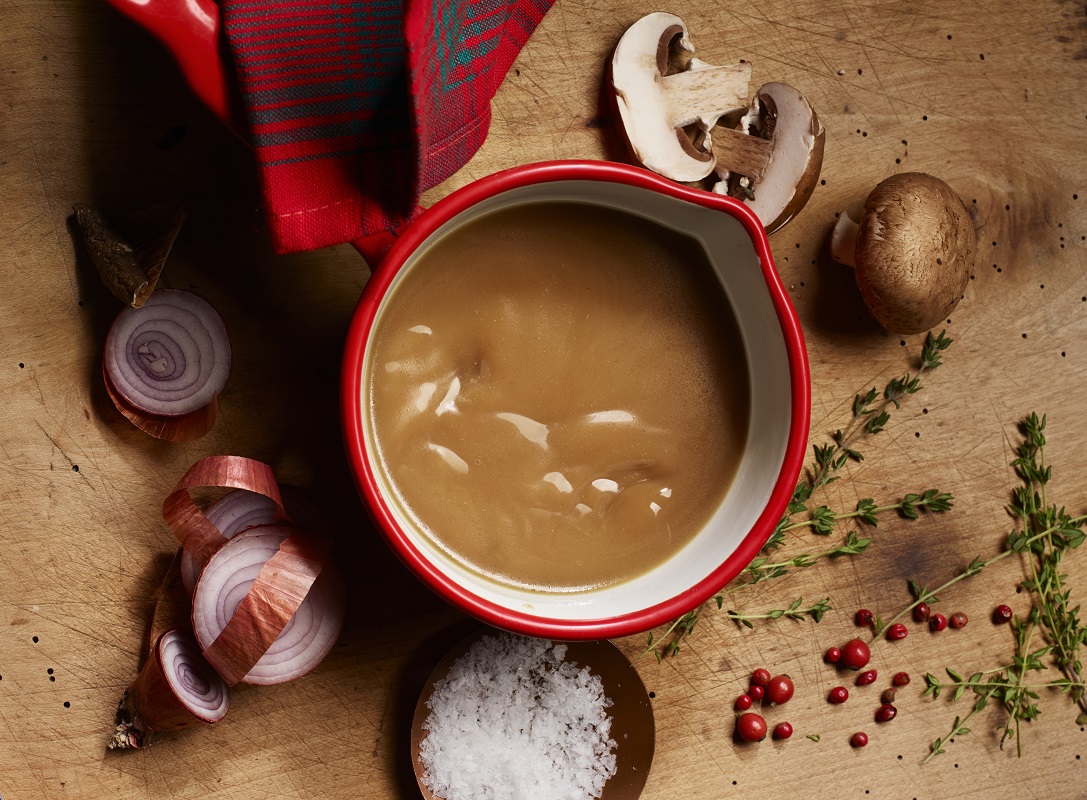 This well tasty gravy was created by chef Anton Petrov - perfect for a festive dinner or sunday veggie roast.
Ingredients
6 large shallots
1 clove of garlic, chopped
3 tablespoons of rapeseed oil
100g mushrooms, sliced
10g dried porcini mushrooms
750mililitres stock
2 1/2 tablespoons shiro miso
2 tablespoons sundried tomato paste
2 tablespoons corn flour
A bouquet garni (herbs tied together in a bunch) of bay, sage, thyme and rosemary
Salt and pepper
A generous squeeze of lemon
Method
1: Place the dried mushrooms in a heat-proof bowl and add 100ml of boiling water. Leave to stand for at least 15 minutes.
2: Heat the oil in a large saucepan and add the shallots and fry them gently until they are very soft and just starting to colour.
3: Add the garlic and fry for another 2 minutes before adding the sliced mushrooms and a pinch of salt and pepper.
4: Carefully scoop the rehydrated mushrooms from their soaking water and squeeze them.
5: Lightly chop them and add them to the pan. Keep the liquid that the mushrooms were in as you can add it to the stock but only if it isn't gritty.
6: Stir the mushrooms until they become moist.
7: Add the bouquet garni, miso and tomato paste and stir again before adding the stock and bringing the gravy to a simmer.
8: Cook the gravy for 45 minutes with the pan lid on and then taste-add salt, pepper and lemon. Go easy on the salt, it might be Christmas but this is a Made In Hackney recipe you know.
9: Strain through a fine sieve and pour back into a pan.
10: Check the thickness.
11: If you want a thicker gravy place the corn flour in a small bowl and take a spoonful of the hot gravy from the saucepan. Mix this to a smooth paste with no lumps before adding back into the gravy. After a few minutes the gravy will thicken up.
12: If you want to add more you can bulk up with more stock, miso and a little corn flour.
Photography by Chelsea Bloxsome for Made In Hackney