World's Best Gluten-Free Vegan Mince Pies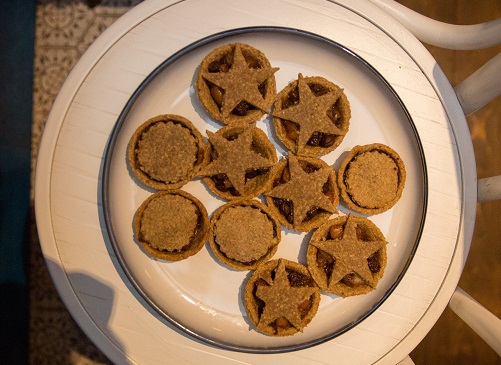 These gluten-free mince pies are world class. The recipe was devised by our Amy Hiller - chef and social media extraordinaire - and they always win rave reviews at our festive parties. Sarah hates mince pies and will happily scoff 4 of these. They're that good.
Ingredients
For The Crust
150g oats
120g ground almonds
1 teaspoon cinnamon
1 teaspoon vanilla extract
6 medjool dates, pitted (or use around twice as many smaller, cheaper dates)
3 tablespoon coconut oil (melted)
A few tablespoons warm water as needed
For The Filling
2 apples - chopped into small chunks
150g raisins
100g sultanas
1/2 orange zest
1 teaspoon cinnamon
1 tablespoon fresh ginger grated
1/2 teaspoon ground nutmeg
3/4 cup apple or orange juice
1 tablespoon coconut oil
1 teaspoon vanilla
Method
1: Start by making the mince. Combine all ingredients in a pan and mix.
2: Simmer over a low heat until apple is soft - about 30 mins. Stir regularly to ensure it doesn't catch on the bottom of the pan.
3: To make the crust, pre-heat the oven to 180 C and grease 1 or 2 muffin trays with coconut oil.
4: Place all the crust ingredients in a food processor and blend until everything is broken down and starts to come together as a dough. If after a minute or so it isn't dough-like, add a little warm water, a tablespoon at a time. Once it looks like a dough, start to work it with your hands. It should be a bit sticky and easily pliable.
5: Lightly flour a clean surface and roll out dough to about 1/2 cm thick.
6: Use a cookie cutter slightly larger than the size of your muffin pan holes and cut out circles. Push them into the muffin pan holes and carefully shape them so they have enough depth to fill with mince. If there are any tears, just patch them up.
7: Cut out your pie toppings at the same time so you know if you have extra dough to make more pies. Set them aside. I like to cut out free-hand triangles, but you can make any shape using a cutter.
8: Put your empty pie cases in the oven for 8-10 minutes and bake until just turning golden.
9: If they have puffed up a bit in the middle when you take them out, gently press them back down.
10: Fill each pie case with a good dollop of mince (don't over-fill or they might collapse after cooking) and then place your pre-cut topper on the top of the mince. No need to completely cover the mince up.
11: Place back in the over for another 8-10 minutes.
12: Leave to cool in the pan for 10-20 minutes as they will be too soft to handle straight away.
Enjoy!
---
---