COVID-19 EMERGENCY MEALS ON WHEELS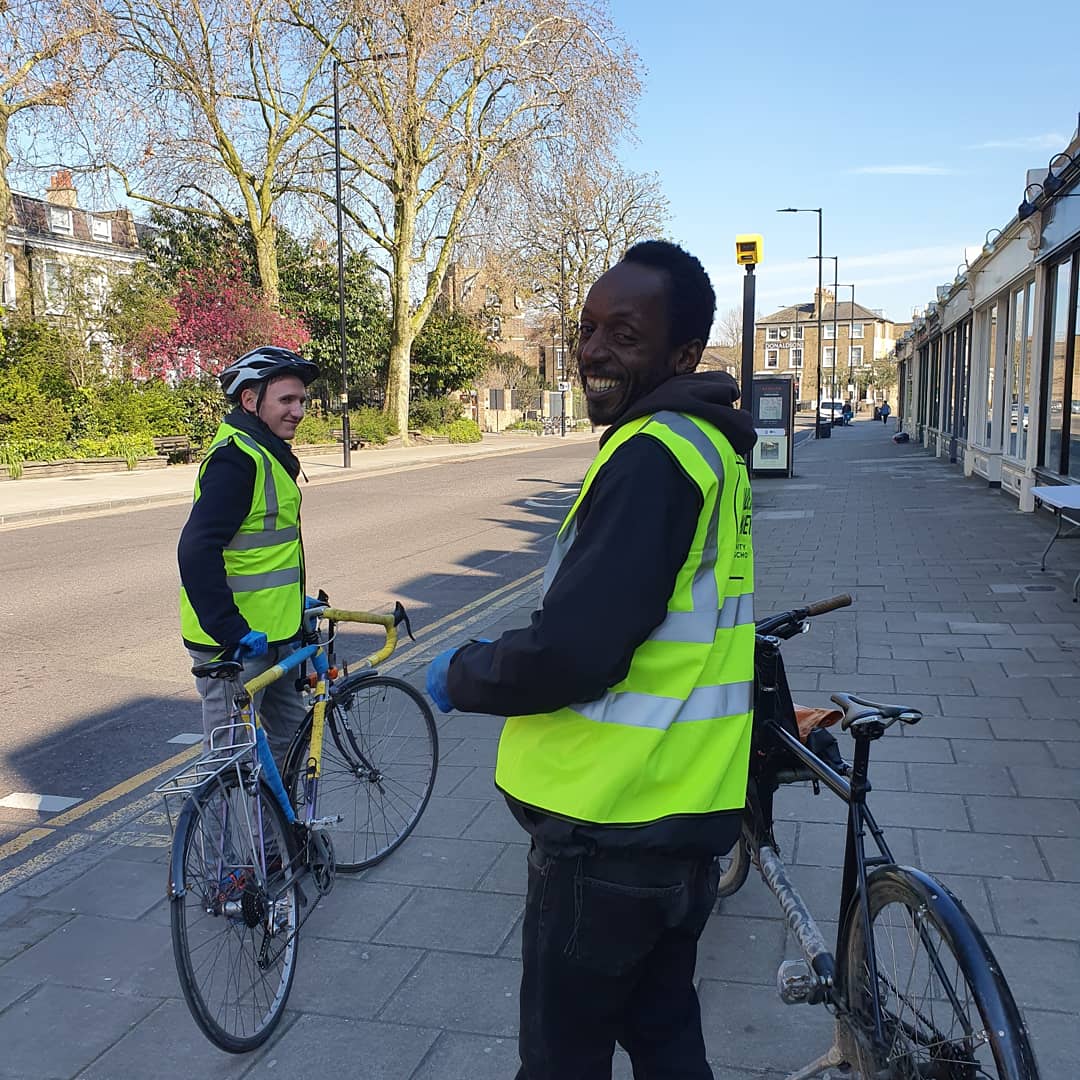 Posted Wednesday 1st April 2020...
Clarence our awesome MIH cycle courier talks to our founder Sarah about what it's like being on the frontline of our COVID-19 emergency meals service.
Sarah: Clarence you're doing an amazing job for us right now. How are you feeling?
Clarence: I'm feeling really good. It's an amazing and much needed service. It's such a good cause. I'm really happy I can play my part.
Sarah: We like to keep you busy at MIH don't we?
Clarence: Ha ha. Yes, you sure do. I'm usually taking all the kit for MIH events and supper clubs so this is quite different. I'm enjoying it though.
Sarah: You are working every day dropping a lot of meals. How you feeling physically?
Clarence: If I'm totally honest when I get home I crash out. But it's a good feeling. It is a lot of drops in one day, every day Monday to Friday. I'm looking forward to the break at the weekend.
Sarah: What's it like working with different volunteer buddy cyclists every day?
Clarence: It's great. They come with energy and good vibes. I worked with Taislima yesterday and she worked me hard. She's a fitness instructor so was really fast and efficient. She was a lot of fun.
Sarah: You're doing a non-contact delivery service. Tell us about that?
Clarence: We ring the doorbell or knock on the door of the recipient. Put the food down on the doorstep then step back 3metres away from the door and wait. Some take quite a while to get to the door and others are really quick. Some people just pick up the food and shut the door and others wave and shout thankyou and give us a big smile. It's a good feeling.
Sarah: Three weeks ago would you have imagined you'd be doing this work for us every day?
Clarence: No not at all. It's amazing what MIH have managed to launch so quickly and it seems very well organised. The courier health and safety training was really thorough. Its impressive. I'm glad to be a part of something positive at such a scary and difficult time for so many people.
Sarah: Thankyou so much Clarence. We could not do this service without you and all the other amazing cargo bike couriers and buddy cyclists. We appreciate you.