What's It Like Being a Volunteer for Made in Hackney?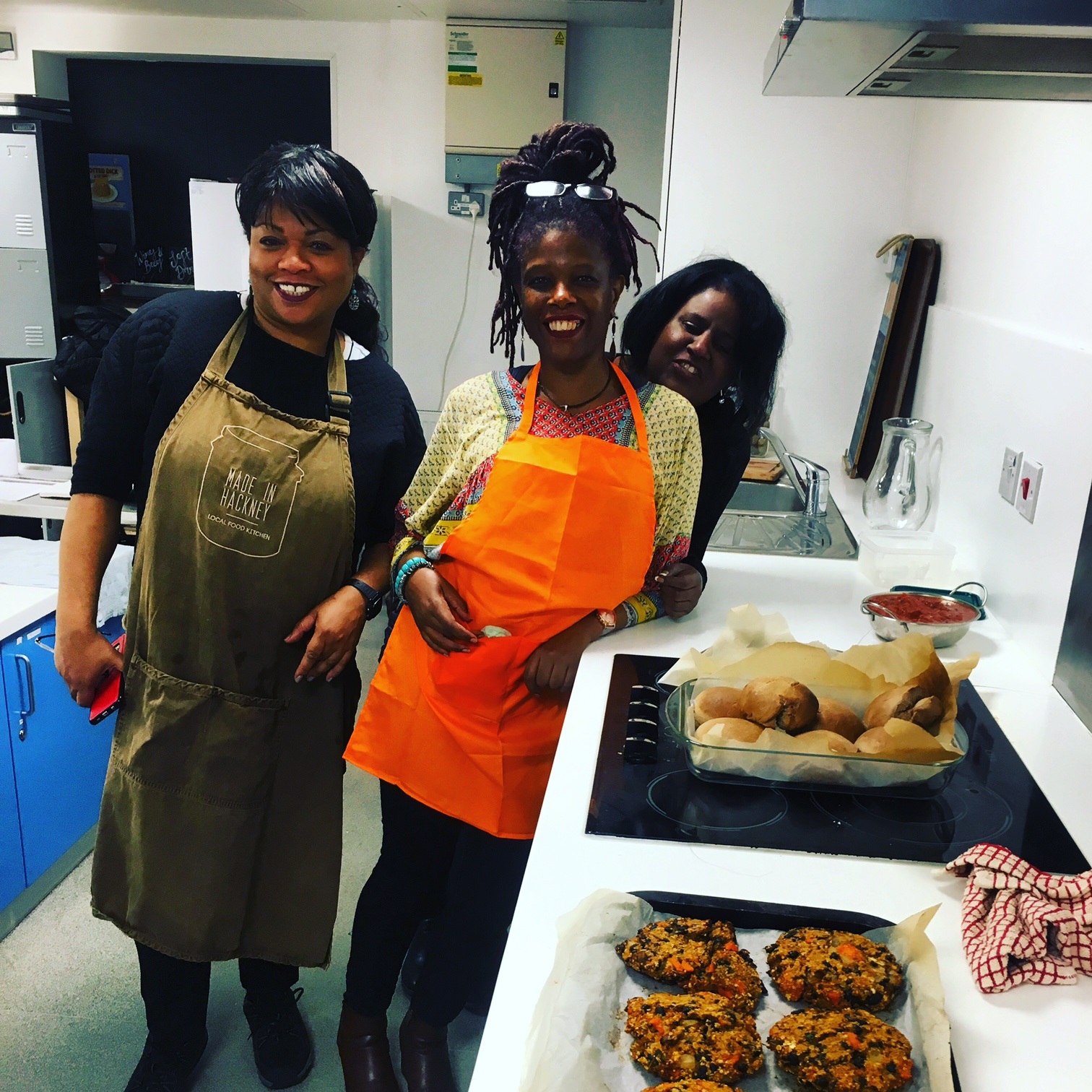 Posted Thursday 10th January 2019...
Our founder Sarah Bentley chats to Mandy (wearing MIH apron), one of our incredible volunteers, without whom life just wouldn't be the same.
Sarah: Why did you get involved with Made in Hackney?
Mandy: To help my transition into healthier life style change. I've had Type 2 diabetes for over 10 years. It's important to keep it under control to prevent any long term health complications. My ultimate goal is to reverse this condition one day and help others do the same.
Sarah: That's brilliant. What's the experience with us been like so far?
Mandy: It's been life changing, I'm eating more plant-based foods. I have increased my knowledge of nutrition and alternative plant ingredients. And I have met some amazingly nice people along my journey.
Sarah: For anyone that doesn't yet know, what does a volunteer 'host' at MIH actually do?
Mandy: I volunteer at both Masterclasses & Community Cooking Classes. My role is to help assist the chef/teacher with preparing all items needed for the cooking classes such as ingredients for each recipe and set it up at the designated workstations for participants to work in groups. I give a brief Intro on what Made In Hackney dose as an organisation and run through Health & Safety procedures for the night. Also make sure everyone's having a good time.
Sarah: What are the best bits of volunteering for us?
Mandy: Meeting passionate people who want to make a difference. Cooking and eating great tasty food.
Sarah: What have you gained from the experience?
Mandy: Valuable knowledge and confidence in cooking and trying new foods and recipes. For the first time I took part in the 2018 Hackney Half Marathon both raising awareness of the charity & reaching my fundraising target of £500 which gave me a great sense of achievement. I have also now taken an interest in growing my own vegetables. I started my first organic garden last years and I'm hoping to expand my crop this year. Volunteering is a great opportunity to try new challenges and change direction and focus in your life.
Sarah: Anything you'd change?
Mandy: Please install a Dishwasher at Cazenove Road Kitchen. More classes dedicated to long term health conditions like Diabetes, PCOS etc.
Sarah: Gotcha. What do you enjoy most about volunteering?
Mandy: Watching people enjoy what there are doing and wanting to come back for more.
If you're interested in volunteering for Made In Hackney drop Nynke a line on Nynke(at)madeinhackney.org
---
---