Mac & Cheese-The World's Favourite Comfort Food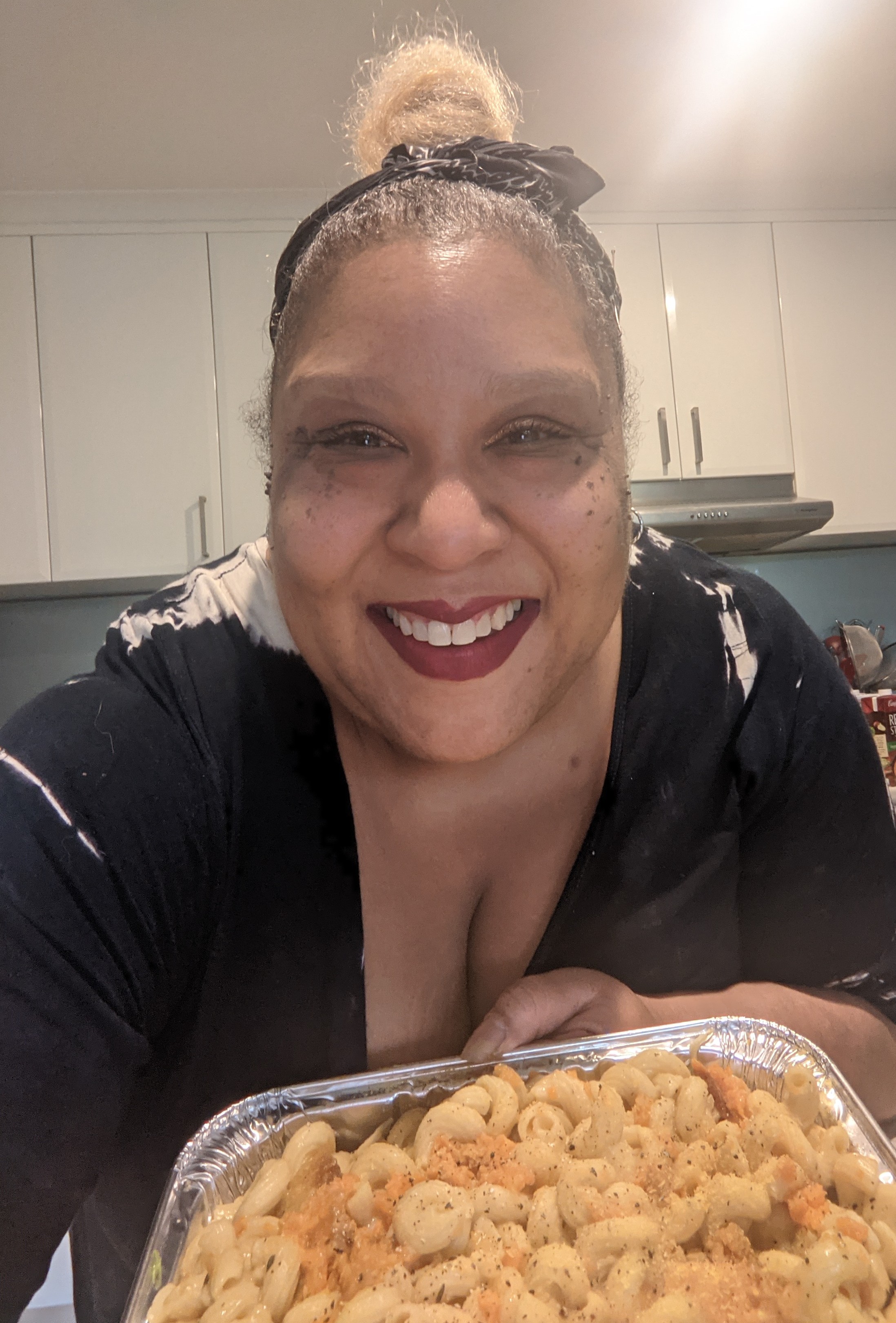 Posted Saturday 9th April 2022...
By Toni Burnett-Rands
www.instagram.com/honeychildscreole
As far back as I can remember I have loved Macaroni and Cheese. It is on the table at every holiday, potluck, and medium to large gathering. Baked Macaroni and cheese is arguably one of the most important dishes in the Diaspora. Top 3 easily. It is economical to make in large quantities, not terribly complicated to make, the ingredients are year-round, and everyone from toddlers to the long lived all love and crave it.
It has such import, that not everyone's Mac is welcome during the holidays, and Elders and Aunties alike, will always ask "Who made this Macaroni?" before deciding whether or not it goes on their plate. If it is not baked. Burnished with a glorious cheese crown, not deeply seasoned, and hefty in the serving spoon you better not even try and put it out. If you are not a "Cook who can put their foot in it" your Mac won't even get unwrapped and placed on the buffet. It is THAT sacred. The only other dish I can think about that you need Level 3 Church Mother approval for is Potato Salad for a major cookout.
But let's not EVEN go there with the Jewel of the cookout, friends. Many don't consider what it took to make this beloved casserole the Ultimate. But to my heart, its journey is just as special and much more important. This iconic comfort was cooked an served by Culinary Visionary and Genius James Hemings. The Hemings family were enslaved by Jefferson's father-in-law Planter & slave trader John Wayles. When Thomas Jefferson married Martha Wayles the Hemings family came as part of Martha's assets. Jefferson took his gorgeous enslaved sister-in-law as his Mistress; James was sally's older brother. As a youth James showed great skills in botany and languages. He was taken to Paris as part of the Jefferson household. He then was trained by French and other European chefs. He applied his knowledge of Virginia produce to the European training and created many things that became the pillar of American Cuisine, Diplomatic Catering, and single handily shaped how colonial America cooked, preserved, and feasted. He was the first person to make scoopable ice cream, pair that same ice cream with pie or make something "ala mode", and was the first person to cook French fries in the USA. All while being enslaved, and very much limited by the social construct of the day. His genius is only now being spoke of and known outside of the black American culinary circles.
I am sure my grandmothers never knew about Chef Hemings, but they were titans of the Kitchen. Professionally and privately. The roots of my family both sides, come from food. From raising it, hunting it, baking it, cooking it, selling it. Both Mrs Wilma, and Mother Ivy could make a mac n cheese that would stop time. The macs were so legendary I didn't make it for family holidays myself until I was in my mid 20s, and I have been known to 'rattle the pans' from 9 years old. The first time I served Granny Ivy my version it was Easter Sunday of 2005. I was FINALLY allowed host Easter at my place. I was extremely nervous that my Granny Ivy, Auntie Edie, and cousins were coming over. Granny came right into the kitchen, she washed her hands, and started lifting my pot lids. She asked for a spoon and got stuck into her inspection. I had just taken the mac out of the oven and she made a bee line and dug right in. She blew on her mounded spoonful and looked me right in the eye when she tried it. She said, "Toni, who taught you this macaroni? I know it wasn't me, because it is better than mine".
My Auntie smiled at me, as I so stunned couldn't answer from the shock. She said, "Mama I told you Toni can cook. " I don't think I ever answered, as satisfied, my Granny moved on to the other dishes. From that day I knew I was a force. Mother Ivy was not known for her giving praise, her sweet words, or suffering fools. I knew I could do something to the highest standard and have taken that day as the starting point for my seriousness with hostessing, and feeding people I care for. The Mac proved me worthy. How could it not be after that triumph? I have southern bred friends who have had similar trials by Grandmother and Mac is always the measure. When we talk about these High Holy dishes of the American south. It has to be said that humble ingredients, year-round effortless collection, and ability to feed everyone (except those who are lactose intolerant or vegan) is why it has stood the test of time. Humble ingredients exalted to finery is what at the heart of Southern cuisine. Add the easy three step European techniques, ability to use local dairy, and pantry staples and you can see how it has been loved by the entire planet.
Every grocery store with a freezer section houses at least four or five versions. There are also over a dozen quickie stove-top mix versions. I think you can even get it at most gas station or corner stores worldwide. I am sure James Hemings had no idea he was lighting an eternal flame in 1790.
The next time you lift up a soul comforting forkful of mac to your lips I invite you to think of your favorite dishes. How did they get into your family? Which have you evolved or made your own? Who do you know in your life that could use a pan?
The is my VEGAN version that will satisfy greedy meat eaters and picky kidlets who need some edible caretaking.
To enjoy Tony Rands delicious dish check out the recipe here. Honey Child's Vegan Baked Macaroni & Cheese (madeinhackney.org)
---
---