Vegetable Box Schemes serving London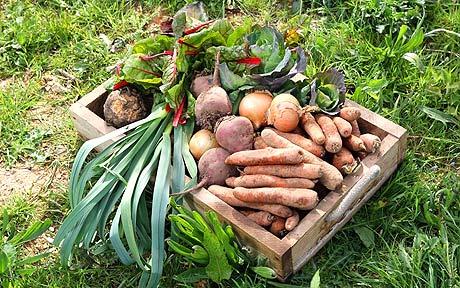 Posted Wednesday 20th August 2014...
The following is a list of some of the main organic (not all certified - ask them) locally-sourced box schemes serving London. Some are run as social enterprises so offer affordable veg, and some accept Healthy Start vouchers or discounts to pensioners so make sure you ask! If possible, try to use the box scheme that is closest to you to support your local community.
1. Growing Communities
www.growingcommunities.org/organic-box-scheme
Growing Communities are leaders in the local food movement; running a box scheme, food growing gardens and a new starter farm in Dagenham, as well as the only certified organic farmer's market in London. They operate a pick-up scheme rather than a delivery one. This keeps pollution costs and food miles down as well as encouraging a sense of community. Salad leaves for the box scheme are grown in gardens in parks in the area, where the public can volunteer to learn more about growing.
Tel: 020 7502 7588
Location: 10 pick-up points throughout Hackney.
Day: Wednesday or Thursday, depending on the pick-up point.
2. Local Greens
Set up as a not-for-profit weekly veg box scheme, Local Greens followed the Growing Communities model, going through its start-up programme.
Contact: Via website
Location: South East London, with collection points throughout Camberwelll, Dulwich, East Dulwich, West Dulwich, Brixton, Herne Hill.
Day: Thursday afternoons/evenings.
3. VegBox
VegBox are also graduates of the Growing Communities start-up programme and are committed to providing affordable local veg from small-scale organic growers.
Tel: 07906 883 209
Location: 4 pick-up points in Kentish Town/Camden area.
Day: Wednesday afternoons.
4. Capricorn Organics
Capricorn Organics vary their boxes regularly and tailor them to suit each individual customer's preferences. They deliver, so are a good option for those busy people who are unable to collect veg boxes but who still want to buy seasonal and organic produce.
Tel: 020 8306 2786
Location: Delivers to most parts of Southeast London and Bexley Borough.
Day: Thursday evening
5. Crop Drop
Another graduate from Growing Communities Start-Up programme based in Haringey. The not-for-profit organisation wants lots of local people to be involved in the running of the scheme, so if you're living locally then check out their "Get Involved" page to see how!
Tel: 07432 588 734
Location: Collection points throughout Haringey
Day: Thursday afternoons
6. Earth Natural Foods
The organic food shop, Earth Natural Foods, on Kentish Town Road has now introduced an Organic Vegetable Box Delivery Scheme for those in North London.
Tel: 020 7482 2211
Location: Delivers to North London
Day: Tuesdays
7. Enfield Veg Co
This box scheme started in November 2013 and is also part of the Growing Communities Start-Up programme. They have a "swap box" at one of their pick-up points where you can exchange any veg you don't want with others in the scheme.
Tel: 07713 488501
Location: Pick-up points throughout Enfield.
Day: Wednesdays from 3pm
8. Field to Fork Organics
http://fieldtoforkorganics.coop/
This co-operative Veg Bag scheme works in partnership with its suppliers, Co-operatives UK, Growing Communities, The Plunkett Foundation and Transition Town Kensal to Kilburn to supply affordable organic and local food to the community.
Tel: 020 8450 3030
Location: North West London, with pick-up points in Cricklewood, Kilburn, Kensal Green, Willesden Green, Queen's Park, West Hampstead, and Portobello.
Day: Thursdays.
9. Just Organic
This box scheme delivers for free on all its set boxes in the evening.
Tel: 07896 345219
Location: Delivers to North and East London
Day: Varies.
10. OrganicLea
Organiclea is a community food project based in the Lea Valley in north-east London. They produce and distribute food and plants locally, and support others to do the same through a variety of training opportunities.
Tel: 020 8524 4994
Location: A range of pick-up points across Waltham Forest.
Day: Any time from Wednesday evening until Saturday.
Some large-scale organic veg box schemes which deliver in London...
1. Abel & Cole Limited
Tel: 08452 62 62 62.
Delivery times: Dependent on location
Location: Delivers throughout London
2. Riverford Organic
Tel: 0845 600 2311
Location: Delivers throughout London
3. Walden Organics
Tel: 01787 279021
Location: Delivers throughout London
4. Greener Greens
This scheme has been running since 1995. Although local and organic vegetables, fruits, and herbs are what they specialise in, they also sell a large range of wholefoods, special dietary foods, and refillable eco-cleaning products too.
Tel: 0333 0444 192
Delivery day: Varies.
Location: Delivers to Surrey, South London, and West Sussex
5. Farmaround Organic
Set up in 1994 as a way of promoting organic food for one's health and for the environment, London's first organic box scheme still runs today. Check on the website to see if it delivers to your area.
Tel: 01748 821116
Location: Delivers to Greater London.
Day: Dependent on location.
For further information about box schemes:
www.bigbarn.co.uk (for information of box schemes and direct suppliers in other areas)