Hungry staff tuck in at Team Away Day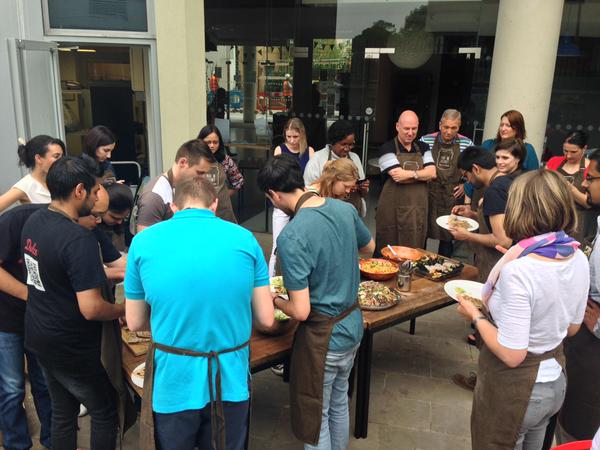 Posted Tuesday 20th October 2015...
Made in Hackney delivers team building and networking events for CAN
Staff of CAN have been enjoying spending time away from their desks learning some useful ideas for delicious and healthy meals.
In May this year 30 staff from CAN joined us for their annual Team Building Day on the theme of 'A Taste of Asia'. The event was held in the beautiful surroundings of The Redmond Centre and incorporated plenty of time for internal strategy meetings in the morning, followed by a delicious, seasonal, organic lunch to fuel the bellies ready for the afternoon's cookery session.
The session was led by Jayne Totty, a chef and nutritional therapist who got staff to work in small groups and try their hand at making different recipes which included Nori Hand & Summer rolls with dipping sauce, Courgetti with Asian pesto, Firecracker rice, Asian noodles and Stir Fry. Handouts with nutritional information were provided for participants to take home and share with friends and family.
By popular demand we were invited back in October to cater for a networking lunch for CAN customers at CAN Mezzanine as part of #Social Saturday. A day held every year to celebrate the achievements of social enterprises across the country and to encourage businesses to 'buy social'. On the menu this time was Middle Eastern Squash Tart, Bulgur and Wild Rice Salad with an orange Asian Dressing, Spiced Indian Potato and Chick Pea salad with Tamarind Sauce, Wholewheat Fennel, Focaccia, Pea and Mint Hummus & Black Bean Hummus and Energy Balls. Yum!
"Our thanks to Made in Hackney for an excellent away day that provided fun team work and produced a fabulous meal, while being a Social Enterprise fitted exactly with our "Buy Social" policy" (Andrew Croft, Chief Executive CAN)
''This was a Team away day with a difference: learning new healthy ways to cook as a team, taking a walk around the reservoir and having the opportunity to eat what we made in the organic herb garden at lunch time. The meeting room facilities also provided a perfect environment to run interactive business sessions in the morning before the cooking session in the afternoon.'' (Gary Phillips, CAN team)
"It was great to spend the day with Made in Hackney who creatively illustrated that preparing and eating healthy and affordable food can be both inspirational and tasty. Their ethos, friendly team and great venue gave us a truly shared, enjoyable and educational team building experience." (Ben Pearce, CAN Invest)
CAN is a registered charity, trading as a social enterprise, that supports other social enterprises and charities to scale up their businesses and maximise their social impact. http://can-online.org.uk/
Made in Hackney has also delivered team building days for Informa, Hackney Public Health, Greenpeace Salesforce Foundation and I2C.
If you would like to arrange a Team Building Cookery Day with us Click Here for further details.
---
---