A Stinging Introduction to Eating Nettles!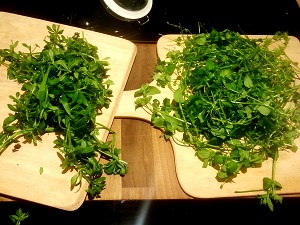 Posted Thursday 19th November 2015...
After quite a heavy night on the Saturday, maybe a cooking class with your family isn't the most exciting thing to wake up for on a Sunday at 11am. Maybe a cooked breakfast, or a day of binge-watching Netflix would have been more up my street at that ungodly hour, but all the same I powered through.
Despite the slight blurry head, I was excited to show my parents, who were visiting from Leeds, and my brother who also lives in London, Made in Hackney, the illusive place I talk of so fondly, where, for the last year I have contributed by being a host at a variety of classes, and now where I am proudly a project apprentice two days a week, alongside my studies. For myself, it was the first time in which I was attending a class, as opposed to hosting or preparing for one, which is one of my responsibilities during the week.
When we arrived we were greeted warmly by Tess the teacher of the Eat your Weeds class, alongside hosts Stephan and my fellow project apprentice, Cecilia. We met the other guests, and chatted between ourselves, discussing where we were all from, and how the journey was to get there. It was nice to think that people had travelled far and wide on a Sunday, despite the over ground closures, and rainy weather to come together and join the class.
So, we began. Tess explained the wonders of 'natures magic' or as others would call them, weeds. She reeled off the health benefits, of nettles, chick-weeds and cleavers, or 'sticky willies' as they are more commonly known. From allergy relief, inflammation, reducing the risk of Alzheimer's disease, arthritis, asthma, bladder infections, bronchitis, hair growth, and anti-ageing, the list was endless. Tess even showed us her secret potion made of nettles, which she uses on her skin! When we had heard what the miracles of wildflowers can do, we began cooking. The class was full of bubbly and interesting people, so it was good to see my parents enjoying themselves, and my dad in particular bantering with Tess, who she nick-named young man!
We made wholegrain crackers, which were full of seeds, a nettle pesto made out of nutritional yeast, as opposed to cheese, and a nettle soup! My family are life-long vegetarians so it was good for them to learn some new alternatives for protein and nutrition, and it was eye-opening for them to learn you can cook with all the weeds in the garden they spend so long trying to get rid of!
We all sat down together at the end to enjoy the food, which was green and delicious, we went away feeling refreshed, and rejuvenated! Admittedly, we washed it down later with tea and cake around the corner, so the health kick didn't last for long, but it was great to spend the morning with my family doing something a bit different, which was healthy and positive.
When asking for reports back from my family, all I could get was the thumbs up emotion on Facebook, so I took that to understand they enjoyed themselves! I would personally recommend the class to anyone, it was affordable, fun and interesting - and I will definitely be keeping my eye out for weeds that I can forage to cook up soups, salads or even smoothies!
Written by Sadie Gains, Project Apprentice, Made in Hackney. Contact: info@madeinhackney.org
---
---